Adobe Creative Cloud coming to you soon
Ivan | Sat, 2012-01-14 00:11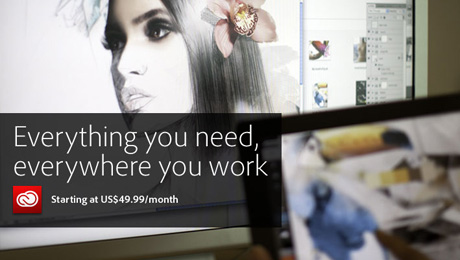 Adobe® Creative Cloud™ is a creative hub where you can explore, create, publish, and share your work using Adobe Creative Suite® desktop applications, Adobe Touch Apps, and services together for a complete ideation-to-publishing experience. The vision of Adobe Creative Cloud is to turn previously difficult, disparate workflows into one intuitive, natural experience, allowing you to create freely and deliver ideas on any desktop, tablet, or handheld device.
Adobe Creative Cloud will be available worldwide in the first half of 2012. While traditional licenses of CS software will still be offered, a membership to Creative Cloud provides more benefits than simply owning desktop software. You'll get all the CS tools, Adobe Touch Apps, and services, plus new features, products, and services as soon as they are released — meaning immediate access to the latest Adobe innovations at no extra cost.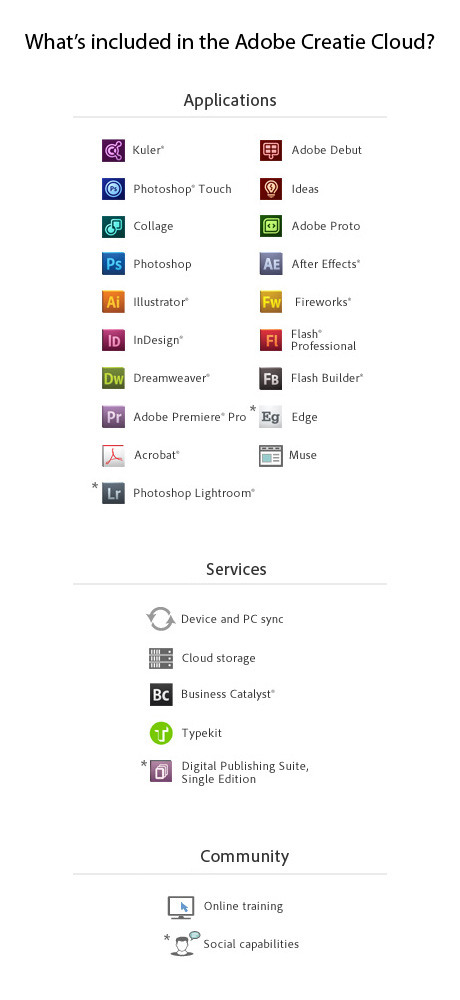 Components of Adobe Creative Cloud
Applications
All the Creative Suite desktop tools. Download and use any Creative Suite tool you choose, or work with other products you've been wanting to try — including Adobe Photoshop Lightroom® and new Adobe Edge and Adobe Muse.
Adobe Touch Apps. Capture and iterate on your idea on your iPad or Android™ tablet and then sync your work to your Creative Suite desktop application, where you can refine your design.
Services
Device and PC sync. Keep all your creative files in sync no matter where you are or what device you're using.
Cloud storage. Store up to 20GB of data that you can access from virtually anywhere.
Adobe Business Catalyst®. Build and manage your business online (special members edition).
Adobe Typekit. Access thousands of cloud-based web fonts.
Adobe Digital Publishing Suite, Single Edition. Deliver iPad apps such as brochures without writing code or relying on developers.
Community
Community training and support. Get answers to your technical questions or access members' wisdom on the best way to tackle a new project.
Social capabilities. Connect with peers, share your work, and inspire others.
FAQ
Will it be available worldwide?
Adobe intends to make it available worldwide, they will announce more details soon.
Can we still purchase regular licenses of Creativ Suite?
Yes.
Is there a minimum subscription time?
Yes. One year.
Will the apps now be in the cloud?
No. We still have to download and run the applications such as Photoshop locally.
What happens to the subsciptions currently offered?
They will remain for existing customers, but they will no longer be offered for new customers.
Commenting on this Blog entry is closed.