Buy more space for your Google account
Ivan | Fri, 2007-08-10 07:37
With a mailbox of 1GB you never have to delete email? Not true. I have two gmail accounts and I still had to periodically delete emails with attachments. Not anymore though. Google just launched a pay service to expand the available space up to 250GB. Here are the prices:
6 GB - $20.00 per year
25 GB - $75.00 per year
100 GB - $250.00 per year
250 GB - $500.00 per year
You can purchase space for your Picasa albums and it is promised to become available for Google Docs & Spreadsheets too.
You can upgrade your Google account here: https://www.google.com/accounts/ManageStorage
I just bought 6GB upgrade for one of the my Gmail accounts and I'm pretty sure I will upgrade further within a few month. It takes 24 hours for the service become active. I'll report back on the success.
Update: The extra 6GB has been assigned to my account. It doesn't show up as extra space on the bottom of the email interface, but only shows in percentage on the manage storage page. As you can see I still have about 800MB left from the 2.8GB that Google provides for free so I'm not using any of the extra 6GB yet. Oh, the ads are still appearing on the gmail interface, I guess it doesn't matter if I'm a paying customer or not.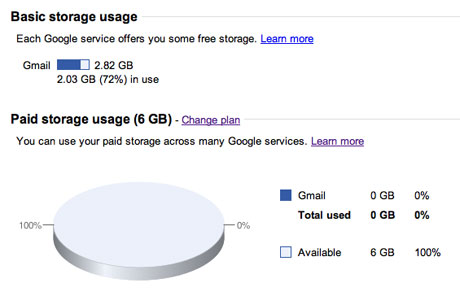 Commenting on this Blog entry is closed.