CarpetVista's design competition
Ivan | Sat, 2009-05-16 14:37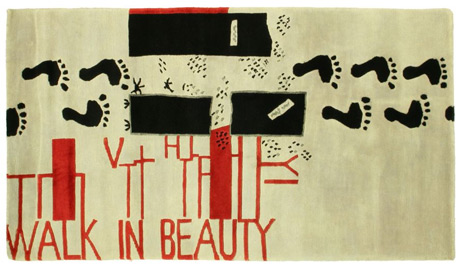 The competition provides you the opportunity to design carpets. The winning designs will be produced in a limited edition and sold exclusively on CarpetVista.com. You and your art will be marketed on Europe's largest trading place for textile art.
The aim of the competition is for you to design a carpet, and we will then provide the production. The carpet will be hand knotted and manufactured with the highest quality of materials. Depending on the motifs the materials are selected, it will be either entirely of wool or with a warp of cotton and a pile of wool. Elements of silk in the pile may also occur.
Please note that:
The carpet should have a modern feeling.
The same design can be produced in different colour-combinations.

NB! (If you provide designs in different colour-combinations it is an added advantage).

The motif should not to be too detailed.
The size and shape (round, squared, rectangular etc.) may vary depending on the design. The design should suit a carpet that measures up to 2x3 metres.
You should also suggest a name for your design.
Let yourself be inspired by the previous winning contributions which you will find under the category "Design carpets" on CarpetVista.com
The prices consists of:
1st prize: € 1 442 /design — 3 winners
2nd prize: € 481 /design — 6 winners
The competition has two phases. The finalists are picked by an experienced jury that has expertise in textiles, art, design and carpet production. The jury's verdict is final and cannot be appealed. The designs that make it to the final will be displayed on CarpetVista.com and CarpetVista's visitors will cast their vote to select the winner.
The jury will only accept designs that are uploaded through the web. Submissions that are posted or emailed will not be considered in the competition.
The last day to submit a design is 2009-07-10
Read the competition rules before you submit your design(s).
Click here to submit your design. You are welcome to submit several designs.
Commenting on this Blog entry is closed.