Transwitter - make status updates fun again
Ivan | Thu, 2009-05-28 10:13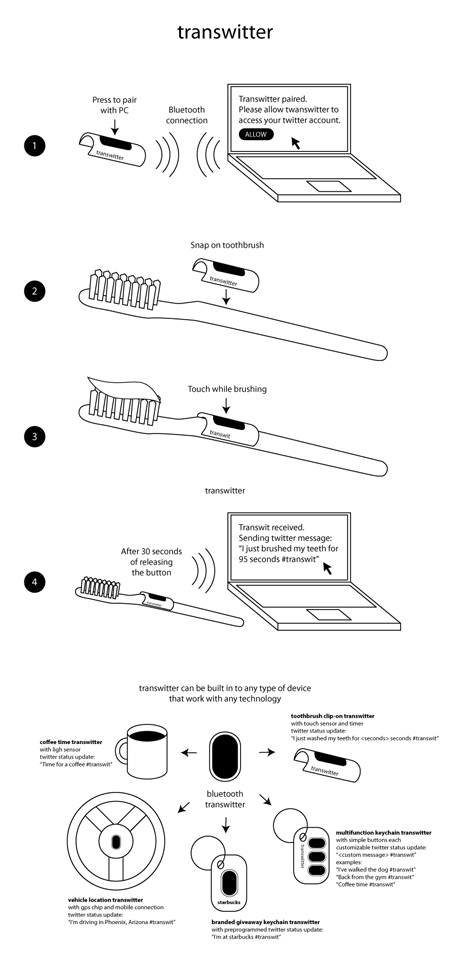 I have an idea for a product (or rather a group of products) that I want to share with you.
It's a gadget that is linked with Twitter (or any other status update web application like Facebook, LinkedIn, etc). It's objective is to make status updates easier, more fun and more integrated with the off-line events of people's lives. It is mostly a gimmick, but with potential for serious applications. The number of different uses are unlimited.
The idea is that people attach a so called twitter transmitter (transwitter) to any real life object. For example a coffee mug. When you lift the mug the transwitter sends a message to your twitter account: "Taking my morning dose of caffeine!"
See the chart above of a few example transwitters, such as:
Toothbrush clip-on transwitter: "#transwit I just brushed for [XX] seconds"
Coffee mug or any other object stick-on transwitter: "#transwit Taking a sip of coffee"
Vehicle transwitter: "#transwit Driving in Phoenix, Arizona"
Multibutton keychain transwitter: "#transwit I've walked the dog" or "#transwit Had a great workout"
Branded keychains: "#transwit #starbucks I'm at Starbucks, enjoying free WiFi"
What do you think?
Commenting on this Blog entry is closed.