Let Illustrator do the math
Ivan | Tue, 2005-10-04 07:40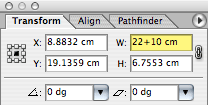 Let's say you have an object that is 22cm wide and you need to make it 2cm wider. You could calculate the amount and punch in 24cm, but if you had a more complex calculation, you may not be able to do it without a calculator. For example 12.3cm-1pt.
Good news, you don't need to bring up the calculator and convert measurement and do the math yourself. You can simply type in the calculation straight into the fields in the transform palette. Illustrator and Freehand both have the capability to do these calculations immediately. You can add, substract, multiply, divide and also mix units of measure.
Commenting on this Blog entry is closed.