Gmail – A New Order
Sasi (63 pencils) | Thu, 2009-02-26 22:41
Creating Hierarchy by Importance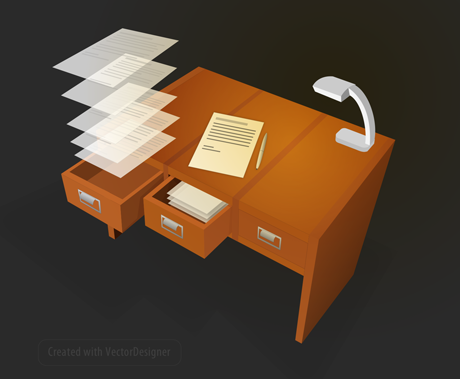 About Starring Your E-mails
First of all, let's get cleared what starring is good for. As in several fields of life, in e-mailing as well, people categorize stuff. Eg. you categorize music by genre, album, artist and even by popularity (manual or play count). You categorize files at work, you categorize letters at home, that's why we have several drawers in our desks. But categorizing sometimes just makes a mess when you have something that could be put to category 'A' or category 'B'. Of course labeling in the digital world offers a solution to that problem. The other problem, which I'm more interested in, is that there is always a category, that is signed by importance.
... Read full entry
Is importance a category?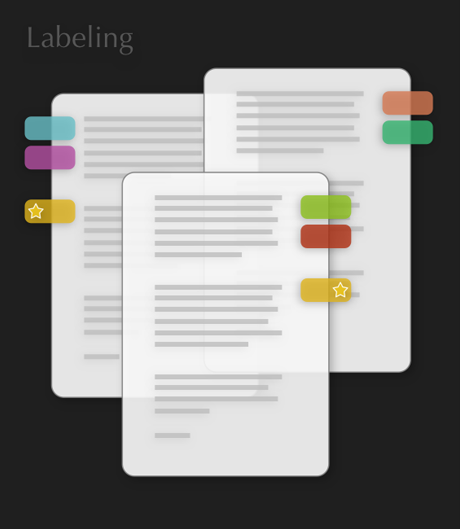 You could think importance is a category. Some way. But importance is rather what you call hierarchy. I explain it, eg.: let's say you have 5 categories, and 10 elements in each category. And in each category you have 2 elements that are more important than the other eight in that category*. These important elements you want to highlight. You want to highlight them and create some kind of order. That's now not only a way of putting elements into drawers, we now talk about creating a hierarchy, a hierarchy among the important elements from the most important to the least important. So you put the most important element into the drawer on the top. So a ranking you create from the 1st most important to the last least important element. Anyway you put elements into drawers (categories) by their incoming date. That creates a hierarchy as well, but that's just the necessary way of creating a list of elements by their freshness. You put the latest on the top. But you could either organize them alphabetically or by any kind of principle.
Finding the relationship to e-mails
Let's say these elements are now e-mails, categories (drawers) are labels and highlighting imortant elements is starring. When you star an e-mail, it gets to a drawer what you call starred e-mails. This is a really cool feature, but imagine you have then 10 or more important things now in a drawer. The problem is that now these e-mails are just organized by a principle that the other drawers use. They are organized by incoming date.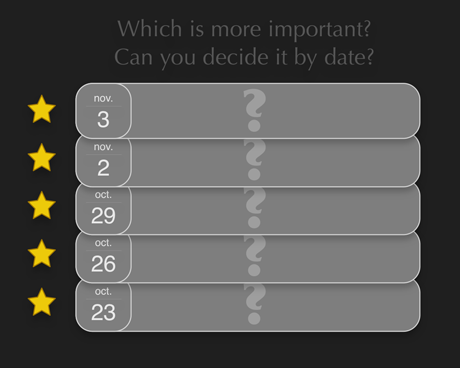 So as mentioned before, it just becomes a category, an ordered list, but not the hierarchy you really need. Not the most important is on the top, not the second most important on the 2nd place, etc.
Selection process
So let's take a look at the process how you select the most important e-mail now.
Starring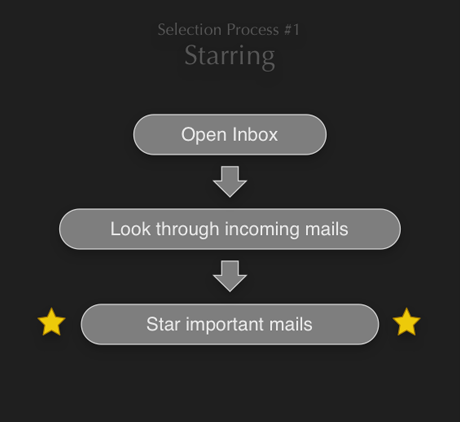 So now you have several mails organized by date in your starred category, but the most important mail might not be on the first place by date. When you have a huge amount of jobs running simultaneously that means 10, 20 or like 30 important, starred e-mails. Like how do you make it sure, the most important information comes in the latest.
Selecting the most important mail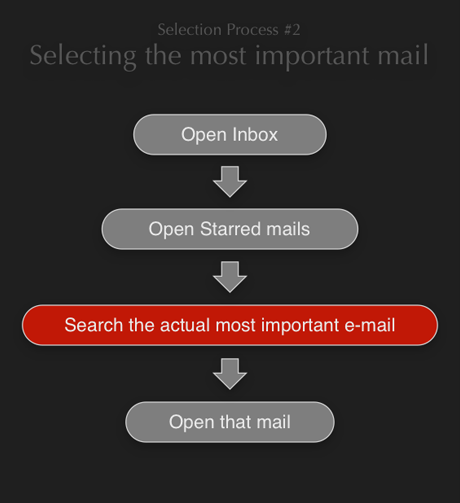 The problem here, what I see is that you may not only open once that important mail. Imagine you have tremendous work to do, you have to answer mails and write new ones as well. Maybe the actual most important to-do or project runs for more days and you then have to search for and open that mail several times. So you have to run the "search the most important mail" maybe 5 or 10 times a day or more. And the amount of starred mails may increase as time passes by. So when opening starred mails, the e-mail you're looking for you will find in an other place, always "losing" importance.
So as now clear, the hierarchy of importance is not solved. What you want is to be able to put the most important mail on top and the second most important on the 2nd place.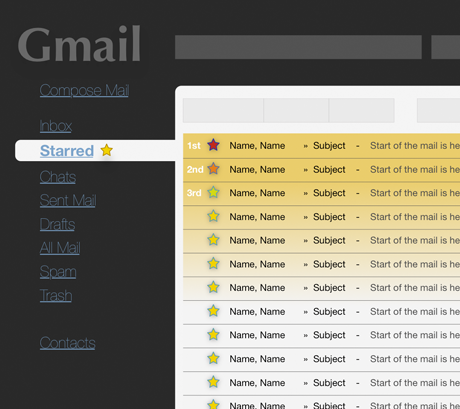 The solution could be that Gmail offers an option when starring a letter on which place to put it or just put it after the ranked starred mails ordered by date.
I would welcome a similar option in Gmail, hope you would too.
--
* Of course it can be that there isn't any important element in one, some or any category or different number of important elements in any of the categories and even different numbers of elements in a category.
ps.: Illustrations for this article were prepared in VectorDesigner, a cheap vector illustration software for the Mac. It's object handling and text editing capabilities still need some improvement, but it's simple and may be a nice option for the future. An alternative for the ones not really satisfied with the monopoly of the Adobe product family.
Commenting on this Blog entry is closed.