Improve quality on iPhoto 5's Photobooks
Tigerstorm (1009 pencils) | Wed, 2006-03-01 22:18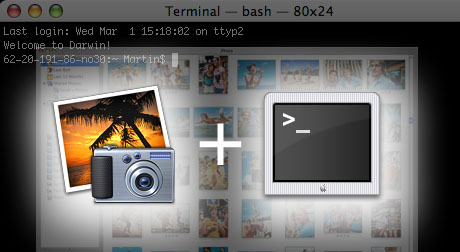 This is a tip directed to the people who still are running iPhoto 5 and haven't bought the new iLife 06 suite, but still wants higher quality on their images in the photobooks you can order through iPhoto 5..
As you might have guess on first notice of the image, your'e going to need to open your terminal in Mac OS X, if your'e not familiar with this program it's command line to your system old UNIX way and it's located in your "Utilities" folder.
First close down iPhoto 5!

Then go there and click on the terminal icon and boom the terminal opens and then you can write or paste this line:
[code]defaults write com.apple.iPhoto BookTargetImageDPI 300.0000[/code]
After that you can close your terminal and open iPhoto 5 as usually..
Note: I haven't tested this myself but I've heard of many people who has done this hack and they've been happy with the results and in iPhoto 6 the resolution is 300 dpi by default..
Commenting on this Blog entry is closed.