What did he say? Find song lyrics for your iTunes music
JimD (2626 pencils) | Thu, 2009-04-16 16:31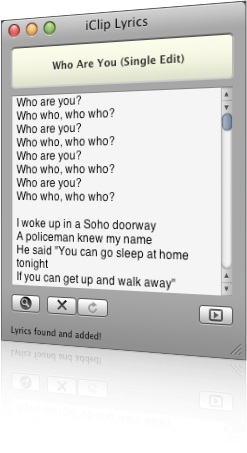 There's nothing funnier than hearing someone singing a song and clearly getting the lyrics wrong. Friends don't let friends sing out-loud to begin with, but they kick you in the throat if you sing it wrong!
iClip Lyrics is a fantastic little application that won't prevent the loss of your friends, but will prevent them from kicking you in the throat.
iClip works seamlessly with iTunes on the Mac. Once installed, you simply open both iClip Lyrics and iTunes. You can hide iClip Lyrics if you wish, because it works its magic behind the scenes with no user intervention necessary in most cases. As you play songs in iTunes, iClip Lyrics searches for and downloads the lyrics to the currently playing song, copies them to the clipboard, and pastes them into the ID tags of the currently playing song in iTunes. Because the lyrics are stored in the MP3 file itself, you may wish to consider backing up your songs so you don't have to go through the process again.
While iClip Lyrics found the lyrics for almost all my music, including ones where I edited the filename of the song with (LIVE) for obvious reasons. There were a few songs it simply couldn't find the lyrics to. However all is not lost. iClip Lyrics offers a search button that uses Google to try to find the missing lyrics. Once found, you can copy the lyrics from the main window, activate the clipboard slide-out panel, and click the past button to have it automatically past the lyrics into iTunes.
You can set iClip Lyrics to always be the top-most window on your screen, if you're the type that likes to sing-along.
iClip Lyrics is free, and works with OSX 10.4 or 10.5 and iTunes 7 and up.
For more nifty application reviews, visit The Graphic Mac.
—
-----------
Visit The Graphic Mac for graphics and Mac OS tips, reviews, tutorials and discussion.
Commenting on this Blog entry is closed.