Taking advantage of InDesign's 'Next Style'
StevePerry (33 pencils) | Mon, 2006-06-05 18:21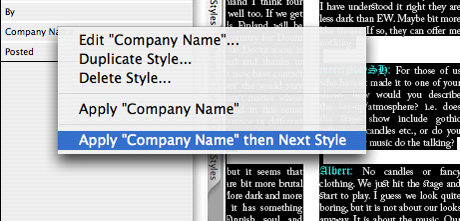 If you found out that you could format 100s of pages of repeated copy with one click of a button, would you take advantage of it? I should hope so! Most of us are taking advantage of the Style Sheets and the even more powerful Nested Style Sheets (if not then I recommend that you do) in Adobe's InDesign. This can be taken further with 'Next Style'. This is the Wolverine* of the style options.
This tip assumes that you already know how to set up style sheets. For this example, imagine that we are setting 10 pages of 3 column company details, all using the same formatting pattern. Simply set up your style sheets the same as you would before, including your nested styles if you so wish. For example lets say that we have basic styles set up like this;
Company Name (paragraph style)
Business Sector (paragraph style)
Description (paragraph style)
Telephone Contact (paragraph style)
This is the basic format for each company. In between each company, you would like to include one blank line to separate them. So, simply duplicate the 'Description' style and call it 'Blank Line' – this is important! Your page formatting pattern will be like this;
Company Name
Business Sector
Description
Telephone Contact
Blank Line
Company Name
Business Sector
Description
Telephone Contact
Blank Line
Company Name
Business Sector
Description
Telephone Contact
Blank Line
Etc., etc. Now, work through each paragraph style sheet changing the 'Next Style' to the required paragraph style. For example, edit 'Company Name' and under 'General' where it says 'Next Style', in that pull down menu select your 'Business Sector' style sheet. Then in 'Business Sector' select 'Description' etc., working all the way through, selecting your next styles. When you get to 'Telephone Contact' make sure you select 'Blank Line' as your next style. Then, edit 'Blank Line' and select 'Company Name' as your next style. Those two last steps are absolutely vital! It will not work without those two steps so beware.
Basically what this does is set up a formatting loop. Now, double click your text box and select all, open your paragraph styles palette and control click (or right click) on 'Company Name'. In that fly-out menu, near the bottom, you will see 'Apply Company Name and then Next Style'. Choose that option and voila! All of your text will be formatted.
I hope that is clear! If not then please let me know and I will try and clear it up, it's my first blog post!
*insert your hero of choice.
Commenting on this Blog entry is closed.