Cian Walsh
Ivan | Tue, 2005-03-01 15:54
This is the first of a series of interviews with talented designers who are readers of CreativeBits. Hopefully you will find it useful to have a bit of insight into their professional thinking and get to know them a bit better personally as well.
I particularly love Cian's icons for their character, extreme detail and clear simplicity of ideas. I wanted to know about how these small jewels of design come alive, so I thought I'll just ask him if he's willing to give an interview. Luckily he was happy to respond, so here it goes: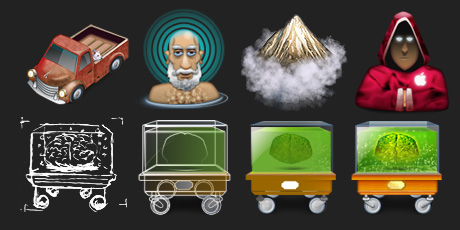 CB: Hi Cian! First, I'd like to ask you what's your working process? Most importantly, how do you come up with a concept for your icons?
CW: It's normally a case of having one Icon idea and then seeing if that can be carried across a set. Forum Faces was originally an experiment with Skin colour gradients. I sketch it, snap the page with my Casio QV-R51 in text mode and import it into Photoshop. Then I build basic shape layers with the pen tool, apply layer styles and start building up definition and texture layers.
CB: In your opinion, what are the criteria of a successfully designed icon? What's the most important thing one should look out for?
CW: Most App Icons are viewed whizzing through the finder or dock so a strong element, colour, shape or object needs to grab the eye. I don't think you need more than two elements in an Icon (e.g TextEdit page and pen). Strong dark colours only really need one element (e.g Address Book) whereas lighter colours benefit from contrasting objects (iTunes) For toolbar icons, the first idea that comes into your head when designing them is almost always the right one.
CB: The upcoming Mac OS Tiger (10.4) will support icons that are 256x256 px in size. Do you think this is a good trend? Is there a need for even bigger icons?
CW: Some say Tiger shows the wheels are coming off Apple's interface guidelines. I just think their trolley is getting wobbly with all these new conventions introduced with iLife '05 and Tiger. At the end of the day we're making colourful splats on a screen so if they can be twice the size, we'll find a way to make it useful. Maybe Icons should start taking on more app/status behaviour similar to Widgets?
CB: What inspires you? Can you recall when was the last time you felt inspired?
CW: I get most ideas from switching the brain off from designer mode and taking in some good music or books. Anything by Blackalicious, Edward de Bono or Pat Ingoldsby. It's very Irish, but the last time I was inspired was in the midst of trading insults with friends. It helps to keep the ideas sharp and visual metaphors flowing ;)
CB: What would be your dream icon design assignment?
CW: It's not computer related, but I've always been fascinated by public information Icons. It's a real skill designing a symbol that can clearly tell an Indonesian in 0.4 seconds, where in Dublin he can get accommodation, coffee or pick-pocketed.
CB: Do you have a trick or tip to share?
CW: I work almost solely with Photoshop vector shapes in Icon design, as I find it speeds up the process immensely when I need to make style changes or scale elements losslessly.
I use layer styles as it is very easy to copy and paste the style to a new shape if you are trying to keep a look consistent across an icon set.
The checkbox "Layer Mask hides effects" in the Advanced Blending options ensures that you can blend shapes together non destructively and seamlessly.
CB: Thank you so much and I wish next time we get an interview from you, I'll be asking you about the new street signs of Dublin. Check out Cian's website www.afterglow.ie for some cool free icons and avatars.
Commenting on this Blog entry is closed.