The Deeply Graphic Design Podcast
Ivan | Thu, 2012-01-26 03:15
The Deeply Graphic Design Podcast is a fairly new show from The Deep End Design Studio.
Here is a quick interview I made with Wes McDowell, who leads the podcast.
CB: What prompted you to create this podcast?
I have always been a fan of the talk radio format, and over the last few years I have subscribed to a number of other design-themed podcasts that I really enjoyed. Over the past year, I have noticed that many of them have started going away. I don't know if its because they got too busy to keep putting them out, or if they just weren't getting enough listeners to justify spending the time doing it, but in either case, I thought that I could fill the void left by them. Also, I find myself giving design advice to others in person, or on forums, etc, so it seemed like a natural fit to start a podcast.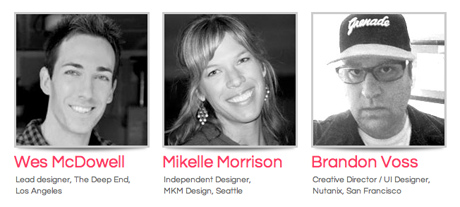 CB: How often do you post new episodes, how much work is it for you to create one?
We put out a new episode every 2 weeks. My cohosts and I start by brainstorming topics, then decide on a day and time to get together via Skype and record. We usually record 2 episodes back-to-back. We speak very off-the-cuff, we know what we will bring up and we know what our opinions are, but we never know exactly where the conversations will lead us. Then I edit all our audio together, write the show notes and upload it. The whole process for one 45 minute episode probably takes about 3 hours.
CB: What is the feedback so far?
So far, great! We have 23 reviews currently on our iTunes page, all with 5 stars. People really seem to be enjoying it, except for one reviewer who thinks we should add sound effects. We're not really a sound effects type of show.
CB: What are your goals?
The most basic goal of this podcast is to talk design with other designers, and pass along a little of what I have learned over the years to other designers. I can say that between my co-hosts and myself, we have a lot of experience to share. Another goal is to have guests on from time to time to share their unique experience. For instance, we would love to have people on who hire designers at an agency to give advice for how to nail an interview.
Enjoy!
Commenting on this Blog entry is closed.