Finder trackpad zooming
Ivan | Thu, 2008-12-25 19:57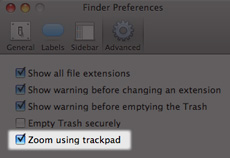 In Finder you can zoom in and out with your trackpad using the pinching gesture.
This feature in Finder only works with the icon and coverflow views. It's very useful when applied to the Desktop, for example if you need to quickly make space for more icons or you want to see the icons of some documents in larger size.
To switch on this feature go to Finder / Preferences / Advanced and switch on Zoom using trackpad.
Commenting on this Blog entry is closed.