FontExplorer X
mijlee (500 pencils) | Wed, 2005-09-14 12:41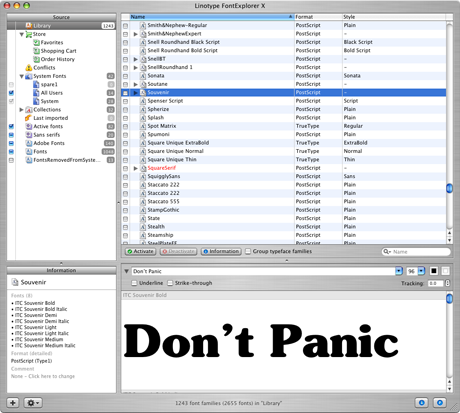 For anyone wondering what to use for there font management needs under OS X Linotype have just released a new version of Font Explorer for OS X. Even more interesting is that they have released it as a completely free product.
It seems to be bastard child of iTunes and Suitcase. It has all of the important features of Extensis's $100 product and includes features from iTunes such as smart folders and an integrated online store for browsing and purchasing new fonts.
They make it clear that a although it is a Final Candidate release it is still Beta software so be wary of using it in a professional environment but I have it on a test machine here and have found very little wrong so far. The only thing that has bugged me so far is that there is no bundled auto-activation plug in for Illustrator (although there is one for InDesign and Quark)
Download it and give it a try.
I think I will definitely be switching once it reaches the final release.
Commenting on this Blog entry is closed.