Fourth Mac OS X browser test
mck (0 pencils) | Tue, 2006-07-11 18:59
In our last test, we tested the four major browsers on Mac OS X (Safari, FireFox, Camino, and OmniWeb). Since then, there have been several improvements on almost all of the browsers, so we decided to test again.
All four of the browsers are Universal Binaries — good news for owners of Intel-based Macs. We tested the latest versions of the browsers as of this writing — Safari/Webkit 2.0.4 (the version that comes with OS X 10.4.7), FireFox 1.5.0.4, Camino 1.0.2, and OmniWeb 5.5 Beta (which can be downloaded from the Omni Forums.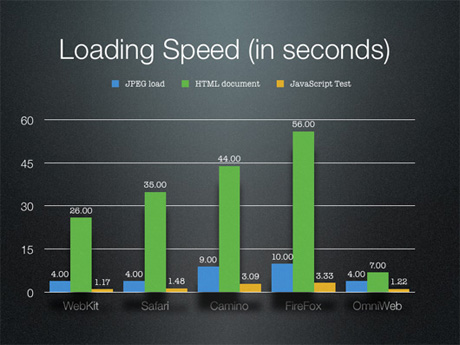 We tested browser speed (page loading, image loading, JavaScript performance), RAM usage, special features, and standards compliance, among others. Read the whole thing here.
Commenting on this Blog entry is closed.