Modern Gadgets with Bad Interfaces
Ken Hattori (10 pencils) | Thu, 2011-09-01 23:19
With the rise of the technology age, consumers have been coddled by sleek interfaces that function just as well as they look. However, with user interfaces getting more friendly, it's not hard to notice the few things in our everyday household that fail to miss the mark when it comes to a good interface.
Remotes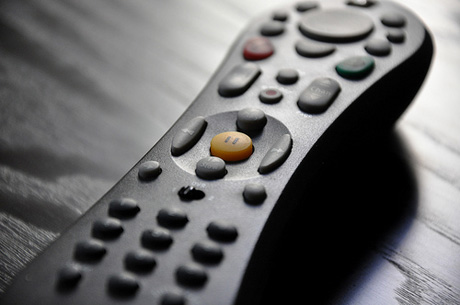 Long gone are the days when the remote only included play and stop. Now using a remote is like typing on a Chinese-character keyboard. The thing has a million buttons, and there's no real organization to it. What's worse is that you have to learn a new unorganized system for every remote.
On top of that, you can spend a lifetime not knowing what certain buttons even do. It's as if their purpose in life is just to hide the buttons you really need by taking up prime real estate on your remote. I'm talking to you "C" button, what do you even do?
The only remotes I can ever enjoy using are the one that controls my car and the one that controls my Mac, either of which one has like four buttons and they're always going to be in the same spot. Consistency and simplicity are your friends, remote—friends who you've yet to call back and catch up with since the '50s. Maybe it's just about time to pick up the phone.
TVs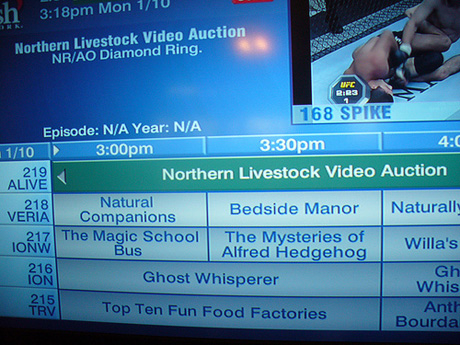 The problem with the modern TV is that it doesn't recognize that everyone has a few hundred channels that they will probably never watch. I will probably never watch the Oxygen channel, but I have to scroll past it every time I want to get to Comedy Central. If I want to browse what's playing on the HD channels, I have to scroll through the hundreds of normal channels to get to all the HD channels at the end.
The worst part is that nearly everyone has an HD TV yet the guide is in 480p, so it only shows you about five channels at a time. Scrolling through a sea of hundreds or thousands of channels at five channels at a time is the most counter intuitive thing ever.
If my TV could separate the channels that I actually watch and the ones that I don't or have categories that make sense, then maybe we'll start talking again. It would be cool for my TV to tell me all the movies that are playing right now or even things that I would be interested in that's on at the moment. The technology definitely exists and I'm surprised that modern television makers haven't included every day conveniences into such an expensive gadget.
Microwaves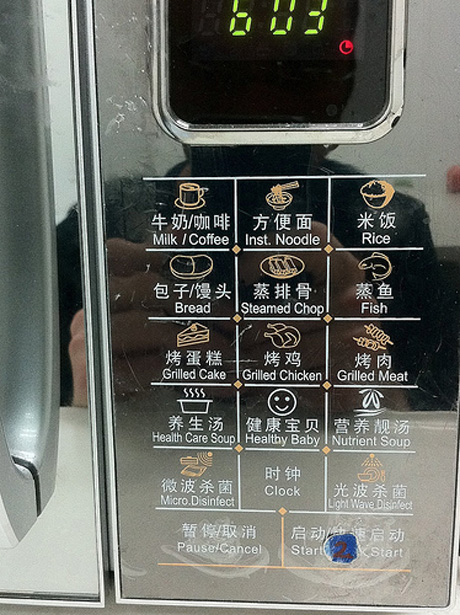 Microwaves only really need two buttons, one to add time and another to stop or pause the cooking. However, modern microwaves have the urge to house a button for every food you might want to eat.
The more expensive the microwave is, the more confusing the menu becomes, because, in the world of microwave UX design, expensive means packing on even more food buttons. Face it: most food you make in the microwave will come with instructions, and if not, then most of us will just cook it until we feel as if we should stop. An oven is content enough to tell me to "cook til brown," but a microwave has to give me all these custom buttons for any possibility of food I might want to cook.
The worst thing though is the power button. I know my microwave is on as long as it's plugged-in so why do I need to push power to use the buttons? It doesn't need to warm up and there's no real reason as to why I need to warn it before I use it. It's just another useless button taking up prime real estate. All anyone really needs from a microwave is the "add 1 min" button and a stop/clear button.
Washers/Dryers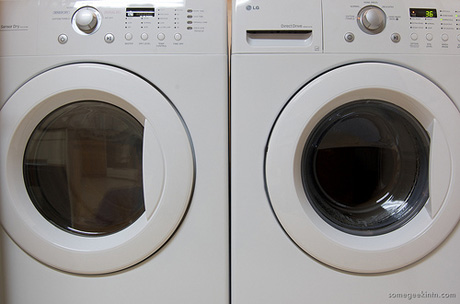 In my entire lifetime, I don't think I've ever understood the difference between regular and permanent press, and my clothes haven't either. Washer and dryers suffer the same problem as the microwave: there are too many options.
However, unlike the microwave, washers and dryers give the user very little explanation as to why you would choose one option over the other. New washers and dryers have even more options than the old ones, which makes it more confusing.
If I wanted to wash towels there's a convenient "towel" option, but then there's also "heavy duty," "whitest whites," and "sanitize." Well, I want my towels to be white, but I would also like them to be sanitized and honestly, it's hard to know just by using the machines how the options differ or what they really offer. Do these options really need to be there in order for your clothes to be clean, or are they only there to add to the price tag of your machine?
Thermostats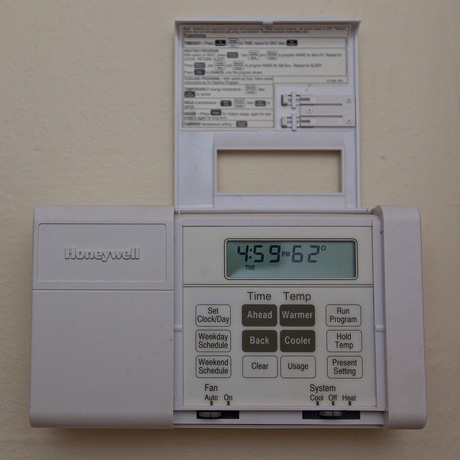 I always hear about the great features good thermostats can provide, yet I've never utilized them because the task is harder than its worth. Most people find that setting up their thermostat is just an easy press of a button (although I do applaud the thermostats that are) and can take up a good chunk of your time.
The schedule maker usually starts with Monday, where you set up the time you wake up (click), then the temperature (click), then the time you leave (click), as well as the time you arrive (click), then the temperature (click), and finally the time you go to sleep (click), as well as the temperature (click). Wash. Rinse. Repeat for the rest of the week.
As much as I love my temperature being automated for me, this process makes me miss the days where thermostats only consisted of on, off, and a temperature slider. In a day and age where everyone has an awesome interface in their pockets, old processes like clicking confirm buttons over and over just become tiresome and annoying. Thermostats, if you can hear me, please consider making everyone's lives easier by putting in a dial so we can at least select time and temperature faster than the continuous pounding of up and down buttons.
Interface design may still be a fairly new field, but the unfortunate case for these appliances is that they've actually gotten worse over the years rather than better. As users, we've come to love the simplicity of our phones, tablets, music players, and even web browsers. We may have always loved these things, but they are also examples of designs that have grown to become simpler and friendlier over time, and those are the main ingredients in an exceptional interface.
Commenting on this Blog entry is closed.