New Wacom logo
Ivan | Tue, 2007-09-25 19:51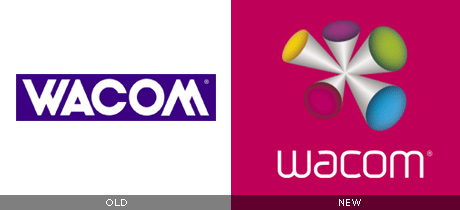 A very strange and fresh new logo for Wacom, the maker of the well known and liked graphics tablets. Here is what brandnew gives us as background information to understand what is happening here.
Wacom, the Japanese company responsible for the addictive tablets — try to pry one from any designer and you will suffer the consequences — unveiled a new identity and brand positioning last week, aimed at making headway into the general consumer market while maintaining its attention on the professional, hardcore user. The new company motto, "Open Up. Sense More." — both technological and slightly kinky — is intended to lead the way in the new appreciation of this company, while their latest tablet design, Bamboo, hopes to cash in on the more general public willing to put their mouse, and carpal tunnel syndrome, behind them. The old logo — with its mid-80s corporate design sensibility — has been replaced with a monoweight, mid-00s techie sensibility. (Do note the legacy of using the same shape, though inverted, for the W and M). The identity has been designed by Wolff Olins, them of London 2012 fame and of bright-color propensity (evident throughout the new Wacom web site). While the revised wordmark is a considerable improvement, the introduction of The Color Thing, all bouncy and weird, is a detriment to an otherwise simple evolution. What the meaning of The Color Thing is, is beyond my comprehension and, once refrained to question its existence, why it's so unbelievably static — make it spin in 3D! make it morph! make it pulsate! anything except bounce like a color version of Pong — is even more baffling and demoralizing. Unless The Color Thing comes alive, really alive, signaling the technological savvy of Wacom, it is a gratuitous visual element with little potential for recognizable traction. Or maybe in its ugliness, like that of London 2012, it will find its audience. One thing is for sure, it will unlikely lose its current, devoted audience of designers and retouchers who can zip across the screen faster than the The Color Thing can bounce from one edge of the screen to the other.
Commenting on this Blog entry is closed.