HP iPod campaign
Ivan | Sun, 2004-08-29 20:00
I think the idea for an HP branded iPod is great. Apple lost many potential cutomers, because some PC users were afraid to buy an Apple product. They were worried it might not be fully compatible with their PCs, which is a common misbelief with all Apple products. Now that the HP brand is available, finally even these PC users will be confident to go for the iPod. Also, HP's distribution network will help to sell even more iPods, which is great for Apple and HP. I can already see that in the near future the common misconception will be that Apple iPod is for Macs and HP iPod is for Windows.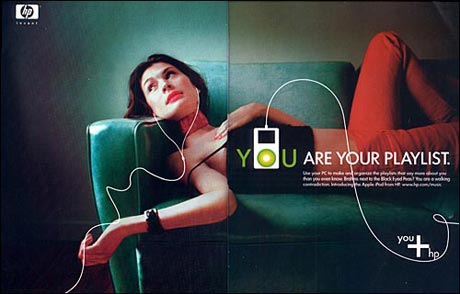 I don't particularly like the HP iPod campaign however. It can be interpreted as a revelation of the original Apple iPod campaign. It feels like the cool black shadow people came to life. But I don't think that was the thinking behind it. I think the original iPod campaign with it's starkness and originality went over the top for many more conservative customers. The Apple campaign was targeting mainly Apple users, who are usually more visually educated, while the HP campaign is talking to the masses.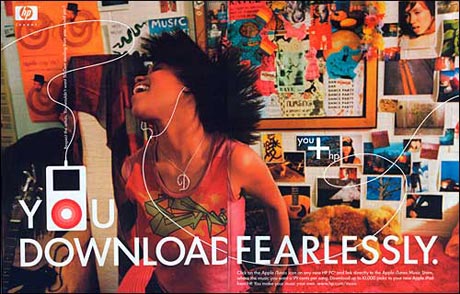 What I like about the HP campaign is that they have retained the cable as an integral part of the visual. That way they made a negative aspect of the iPod into a fashion statement. I'm talking about the fact that normally nobody would like the stupid cable hanging from your ears, but the ads changed this perception. Now it became cool to wear the white earphones and show off the white cable. It says I'm part of the cool iPod crowd. I also like that the images are full of life and that the HP branding is subtle. The styling is great too.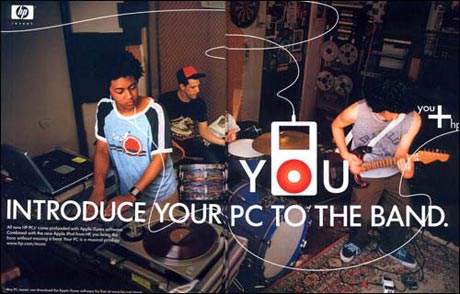 The only negative aspect of this campaign is that it's quite generic. I mean you can replace the iPod with a bottle of Coca-Cola or an ice-cream and it would still work for those products. This campaign doesn't stand out from the crowd as much as the original Apple campaign did. But, as I said before it's because the target is different. More conservative ads will work for the more conservative audience. It's not gonna make it into my favorites, but I have to give kudos to HP.
Thanks to MacMinute for the images.
Commenting on this Blog entry is closed.