Ivan will teach you a lesson
Ivan | Fri, 2004-09-17 08:02
Hurricane Ivan that is. This natural disaster besides reminding us how uncertain life is, also reminds us about the most important theory of graphic design.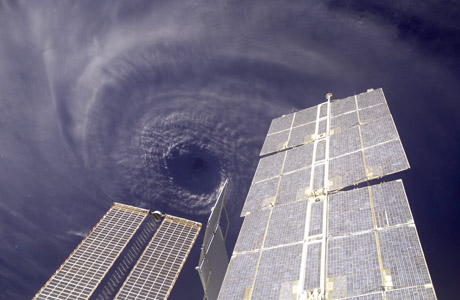 Fibonacci in 1202 came up with a series of numbers, which lead to the famous Phi number and the golden mean. Understanding this theory gives the designer godlike powers. Ok, not really, but it will help you understand the underlying principles of nature and beauty.
Everything in our universe, such as the shape of hurricanes, the way the trees grow, the way the petals are arranged in a flower and even the structure of the human skeleton are all arranged by the golden means. It also describes the reproduction cycle of rabbits, but that's beyond the scope of our theme here. :)

If we take the ratio of two successive numbers in Fibonacci's series, (1, 1, 2, 3, 5, 8, 13, 21, 34, 55,..) and we divide each by the number before it, we will find the following series of numbers: 1/1=1, 2/1=2, 3/2=1.5, 5/3=1.666..., 8/5=1.6, 13/8=1.625, 21/13=1.61538... The ratio seems to be settling down to a particular value, which we call the golden ratio or the golden number Phi. It has a value of approximately 1.618034. (Not to be confused with another famous number Pi, which is 3.1415...)

You can simply recreate the Fibonacci numbers if we start with two small squares of size 1 next to each other. On top of both of these draw a square of size 2 (=1+1) and so on. You can draw a spiral in the squares, a quarter of a circle in each square. The spiral is not a true mathematical spiral but it is a good approximation to a kind of spiral that does appear often in nature. Learn more.
It's not a coincidence why business cards sized 8x5 cm look pleasant to the eye. It's because the proportions are similar to everything in nature, that we are used to for the past hundred thousand years. You'll be reminded about this important guiding principle everywhere in nature, art and design. For example Robert Bringhurst refers a lot to the golden mean in his must read book The Elements of Typographic Style. Keep Ivan on your desktop and next time you do a layout think of the golden ratio.
Commenting on this Blog entry is closed.