Obama's new logos
Ivan | Sun, 2009-03-08 21:25
President Obama unveiled new logos designed by Mode Project. Creative director Steve Juras led designers Aaron Draplin and Chris Glass in the assignment to create two logos, one for projects completed under the American Recovery and Reinvestment Act (ARRA), and the second for the U.S. Department of Transportation's TIGER (Transportation Investment Generating Economic Recovery) team.
I do think Obama's campaign was and still is great. I do appreciate how he puts emphasis on good design. However I'm afraid he's going overboard.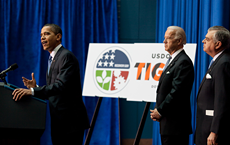 Are we going to have a completely different logo for every government project from now on, each with a completely different look? If it were up to me I would rather create a more formal identity with a family of logos that are different but still belong to the same family and represent the different initiatives of the government. This would help people understand that all of these projects are based on the same ideology and belong under one leadership.
I understand the idea behind the Tiger logo, but I think it fails on two major accounts. First, the orange and black stripes conveys danger, which is not a good association for the subject. Second, it's very informal and lacks authority. You can't take a program with such a logo seriously. It reminds me of the movie Idiocracy where the government becomes part of the commercial enterprise and where brands rule the land.
The ARRA logo is OK, but visually it reminds me of a modern communist era. The crest format with the simple icons (that even the illiterate can understand) of the plant and the cogs, representing the peasants and the industry are just way too soviet. It makes me feel like we're at the beginning of a collectivist dictatorship.
Lord help us! ;)
Commenting on this Blog entry is closed.