Color sampler tool
Ivan | Fri, 2004-10-08 17:22
To follow up on previous posts on features of the Eyedropper tool, here is another useful feature.
When you compare several samples of colors with each other you don't need to jot down the numbers on a piece of paper. You can press Shift while clicking with the Eyedropper tool (shortcut: "I"). This opens up an extended Info palette. You can click on your image up to four times. For each selector you will be able to see a corresponding color value in the info palette.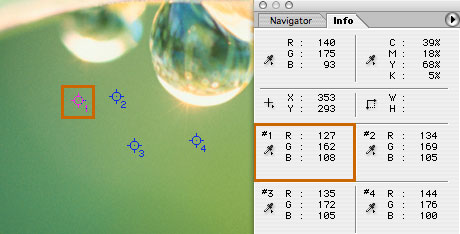 To delete any of the selectors press Apple (or Cmd) and drag them out from the image. If you want to see the values in different color systems click the tiny Eyedropper icon below the number in the info palette to bring up a little menu with several options to choose from. You can also use this function to sample the same color several times and have the info palette show you the values in real time for different color systems, while you're adjusting colors in your image. The position of the color samples are saved into the document, so you can refer to them even after reopening the document.
Commenting on this Blog entry is closed.