Flip through your font collection
Ivan | Thu, 2004-10-21 14:56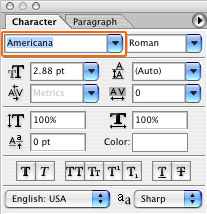 Often when I am searching for that perfect font for a logo I will try hundreds of font faces. I used to change them one by one in the font pallet. However you can speed things up a bit if you just put your mouse in the font drop down box to select it and use the up and down arrow keys to tab through all your fonts. It makes quick work of the task and you can even find a few fonts that you never would have tried otherwise.
Thanks for the great tip Mark!
Commenting on this Blog entry is closed.