Reset dialog box
Ivan | Sun, 2004-10-17 01:48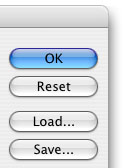 When Photoshop opens most of it's dialogue boxes it offers you the ability to click OK or Cancel to accept or cancel the task. Some of Photoshop's dialogue boxes offer a hidden "Reset" option. Items like Levels, Curves, and Hue & Saturation. Holding the Option key changes the Cancel to a Reset, allowing you to reset the dialogue box without having to cancel, and re-open the box every time you want to start over.
Thanks for the tip Mark.
Commenting on this Blog entry is closed.