Threading-id: faster and leaner emails
Ivan | Fri, 2005-09-09 13:00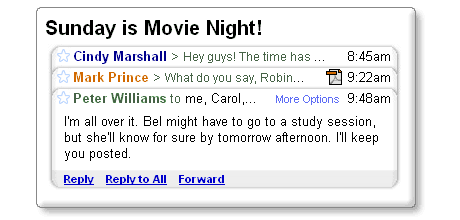 Gmail uses a smart threading technique for viewing email conversations. If there was a reply to a message you sent or received, Gmail will automatically display it in chronological order with the original. This conversation view continues to grow as you respond and new replies arrive, making it possible for you to follow the whole back and forth discussion in one place. Also, Gmail features a very important improvement compared to other email software. Quoted emails in replies are hidden, so they don't show up repeatedly with each reply. This makes following a conversation much easier. But what about the mail.app?
In Mac OS X mail.app you can have a similar threaded discussion view by selecting the View/ Organize by threads option, but unfortunately it doesn't hide the quoted emails and there is no way to show consequent emails in a one expanded thread. You can only look at them one by one, but at least they are all collected into one window to find them easier.
It's clear that you can perfectly well follow an email conversation without the need for quoted emails. Many times I receive emails that are a mile long because they include several nested quoted emails and the only new information is just 2 lines of text. That's a big waste.
Both mail.app and Gmail use the subject field to bind email conversations, so the quoted emails are not necessary for a perfectly functional threaded email discussion.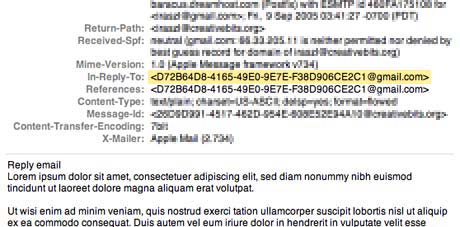 While the subject field works well to identify related emails, I think there may be a more precise and reliable way to bind messages together into one conversation. If you look at the expanded headers in an email message, you can see that each email has a unique ID that can be used to identify emails that belong to one conversation. (Highlighted on the screenshot.) I am sure Google engineers must have thought of this, so there is probably something wrong with this theory, but I don't have enough understanding of email protocols to verify the feasibility. If we were to use this ID to identify messages, we could even change the subject line when the discussion gets sidetracked, still the conversation stays bound together.
Regardless of what field is used to bind the emails together I propose to follow a practice of switching off the quotes. You can do this in mail.app if you go to Preferences /Composing and switching off Quote the text of the original message. I couldn't find an apparent way to do this in Gmail. Hopefully this option will be included soon.
This practice not only saves hard disk space, but also saves bandwidth. It may not seem much on a personal level, especially if you have broadband and a huge hard disk, but for a dial-up user or a user downloading messages through one of the mobile services it makes a big difference. Most importantly on a global level it means a lot less wasted resources.
But what if your email partner does not use an email application such as mail.app or Gmail that can bind messages together. He would rely on the good old quoted emails to look up the conversation. This improved new system of quoteless replies should downgrade well to old email applications. I suggest that we start including a new switch in email headers. This new switch would be a simple statement that the sender supports quoteless threading, such as Threading: on. The receiver application could check for this switch and if it exists it can safely return emails without quotes knowing that the original sender will be able to bind the sent and received emails together.

Since we are adding a new field in the email header we may as well add a unique ID that is solely used for email thread identification, such as Threading-id: xxx-xxx-xxx.... This way the quoteless email practice would work safely and independently from subject names or any other existing email fields. It would also downgrade well without any danger of annoyance of missing quoted history for users who are using email applications that does not yet support threading-id. Slowly, as more and more email applications adapt the threading-id technology the email traffic over the internet will get leaner and faster. Also, our email databases will get smaller and email applications work quicker.
If for instance if only Gmail would adopt the threading-id technique on it's own servers they would be able to save tens of thousands of megabytes of storage space instantly because all inbound traffic (Gmail account to another Gmail account) would benefit from the system. Also, from a user side, emails would download faster, which would result in a better user experience and more happy Gmail users.
Commenting on this Blog entry is closed.