Just how big is the iMac 27"?
Ivan | Wed, 2009-10-21 06:35
I think the new iMac 27" inch is the ultimate designer machine with its 2560 by 1440 pixels resolution and 375 cd/m2 brightness thanks to the LED technology. But for those used to 15-20" screens. Just how big is it?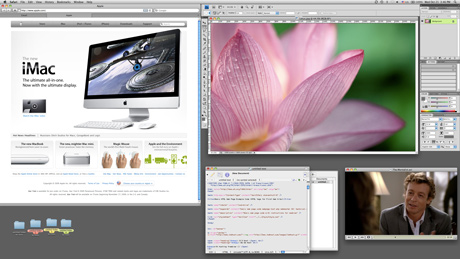 You can fit two windows of Safari with regular 1024 websites next to each other and still have space on both sides.
You can open a spread of A4 or letter size documents at 1:1 with plenty of space for palettes and menus.
You can have a browser window, Text editor with html and another with CSS code open next to each other.
You can edit full HD video at 1:1 with plenty of room for navigation.
You can run XP and Ubuntu as virtual machines side by side at 1280x1024 resolution with plenty of space on the bottom.
You can view appr. 260 folders in Finder at the default 48px icon size. :)
Commenting on this Blog entry is closed.