Fraction to Decimal Chart Download from CB!
JimD (2626 pencils) | Wed, 2004-12-08 16:46
If I had a Dime for every time I said or heard "it was only off a fraction of an inch. Unfortunately, having your ad drawn at a fraction of an inch off can end up causing you to eat a $5,000 ad for you client!
I've had this handy fraction to decimal conversion chart on my desk for MANY years. It won't save you from a colossal advertising blunder, but it's somewhat useful to have around. Recently given a facelift, it's ready for you to download... just click the preview image below to download the PDF.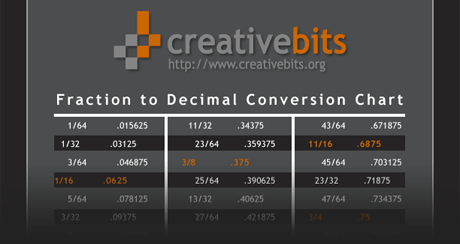 —
-----------
Visit The Graphic Mac for graphics and Mac OS tips, reviews, tutorials and discussion.
Commenting on this Blog entry is closed.