OurSignal launches
Ivan | Tue, 2008-06-17 20:42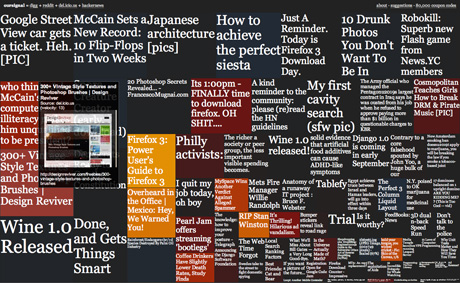 How do you get your daily update on the hottest stories of the day? You can get a quick overview of your favorite feeds with an RSS reader, but what about the stories that are hot, but do not fall into your blogosphere? Are you going to check out Digg, reddit, delicious and hackernews? That's way too much effort and time. How about a quick overlook of all four? That's what Our Signal is all about.
OurSignal.com looks at currently popular items on the top social news sites and mashes it all together. The idea is to allow users (you especially) to get a rapid overview of what the latest breaking headlines are at the frontline of the intermatubes. The bigger the box, the more relative votes a story has. The warmer the color, the quicker the story is on the rise. Cooler colors denote negative velocity. Sources are refreshed every 15 minutes.
Commenting on this Blog entry is closed.