The perfect web dev tool?
mijlee (501 pencils) | Tue, 2007-04-24 12:57
For the last year or more my web development work flow has gone like this:
Design = PhotoShop
HTML/PHP = TextMate
CSS = CSSEdit
FTP = Transmit
I've been pretty happy all in all but have been looking for someone to combine the dev part of it in one app. Basically I want a bastard child of TextMate and CSSEdit, in one well thought out Cocoa app. Ideally it would be great if this had a good file manager built in too so I can control the assets well. FTP would be a nice bonus but maybe I'm getting a bit greedy. I also love the idea of SubEthaEdit, where you can share and edit a file over a network in really time but nobody could ever combine all of this into one app?
Wrong! Read on to find out the app that may change your dev life.
Panic, the guys who gave us Transmit, and Audion (which was very nearly iTunes) have released a new tool which looks very, very promising. They call it Coda. It comes with all of the above features built in straight out of the box! And if that's not enough they have also added a built in Terminal for SSH and an electronic guide to HTML, CSS, JS and PHP should you get stuck with your code. The Site manager is brilliant and is basically Transmit with some other features.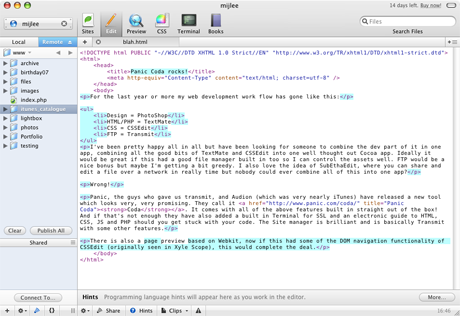 There is also a page preview based on Webkit, now if this had some of the DOM navigation functionality of CSSEdit (originally seen in Xyle Scope), this would complete the deal.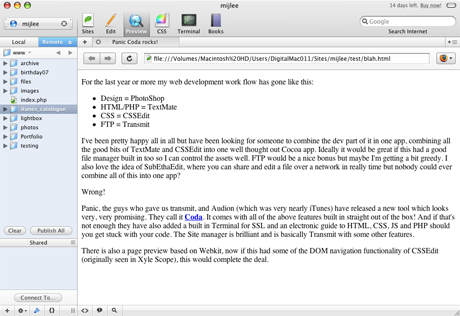 The CSS Editing tool has everything you need apart from the ability to handcode your styles but that's not a huge loss as the code is well formed (hacks might be dificult to implement though). A nice touch is the way that you can edit page styles in the CSS editor as if they were an imported stylesheet.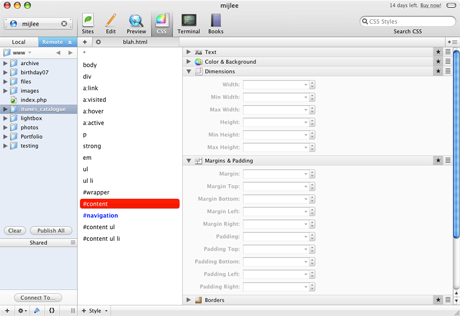 The sites functionality is fairly basic but does most of what you need including upload, download and Publish. You can also open and work on live files for quick edits. The one thing missing for me is a split view for comparing the 2 versions.
The books function is a nice touch and is basically a list of reference for the big 4 languages used day to day in the Mac world: HTML, CSS, Javascript and PHP.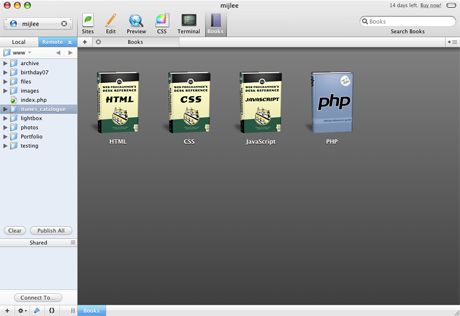 All in all a GREAT version 1 app and something I will certainly be testing as a replacement for my current tools. Although I have just noticed that CSSEdit has gone to version 2.5 so I will have to check that out too ;-)
Let me know how you find it.
Commenting on this Blog entry is closed.