Use skype on your mobile phone
Tigerstorm (1009 pencils) | Wed, 2006-06-21 00:30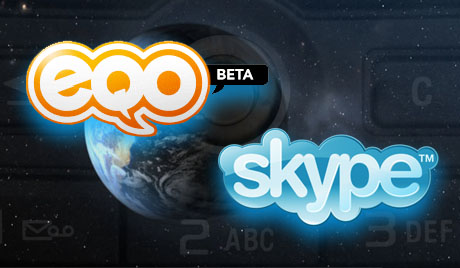 If you are on the run abroad and need to phone some important clients and speak to them personally and you want to use Skype for it. You've got no computer along you, only your mobile phone which isn't state of the art pocket pc with wlan and everything.. You got for an example a Sony Ericsson K750i or something along those lines..
A company called EQO has created a skype client for mobilephones using your computer as a gateway to your Skype.. With the help of this you can phone or have multi-session instant messages with your skype buddys while using your mobile phone through GPRS or perhaps 3G if that's available.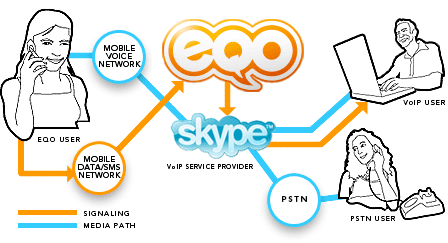 How does this work? Well you goto EQO website and subscribe for their latest beta of the software and through their instructions you create an account and download the client first to your mobile and then to your Mac and then you need to install the Mac software and start it and then enter your login details and press start. You will get an warning display from Skype that EQO wants to use your skype.. Either you select yes all the time or yes this time but warn me next time or you select no.. Anyway if you got on with the positive answers you will notice that EQO program runs without interfer with your regular skype client..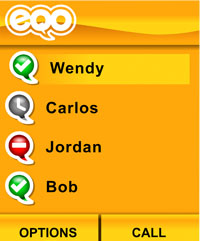 Now you start the client on your mobile phone and connect.. If all goes well you can now browse your skype clients and instant message them or phone them.. Your computer is the link between your phone and the skype client on the computer. It's a cool solution but..
So what's the downside with this solution..
Well my conclusion is that it would be better if Skype had created this kind of program for the very first start, so you don't have to use your computer as gateway, and it could cost a lot to phone somebody and have a long conversation through GPRS or 3G, depending on your operator. Your computer much always be online and have both Skype and EQO program open in order to make it work.
[color=red]Notice this:[/color] I've only tested the instant message service and that seems to work, but I've not tested to phone any of my skype clients, partly because they were asleep while I was writing this article..
You can download EQO here: http://www.eqo.com and it works with several mobile phones and works for both Mac and PC..
Commenting on this Blog entry is closed.