Wikipedia Goes Dark to Protest Against SOPA and PIPA Bills
Vootie (1598 pencils) | Wed, 2012-01-18 14:19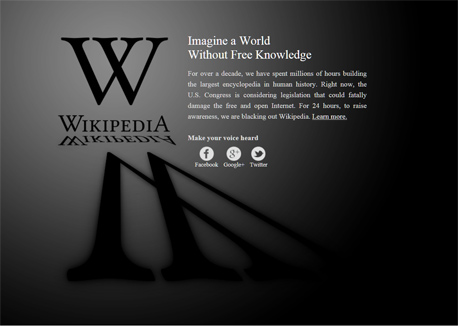 It's quite startling to arrive on the English version of Wikipedia and find just a single ominous image urging visitors to learn more about its opposition to the Stop Online Piracy Act and Protect IP Act bills, currently active in the United States House of Representatives and the United States Senate.
You can understand Wikipedia's concern since, if passed, SOPA would require Wikipedia to monitor every site they link to, with any link to an infringing site potentially forcing them offline. It's not surprising that Google, Reddit, Craigslist, WordPress.com and many other high-profile sites are making today a day of protest about the damaging impact these bills could have on a free and open internet. Where have you spotted the protest today?
Commenting on this Blog entry is closed.