SearchWiki: Google let's you digg search results
Ivan | Sun, 2008-11-23 15:58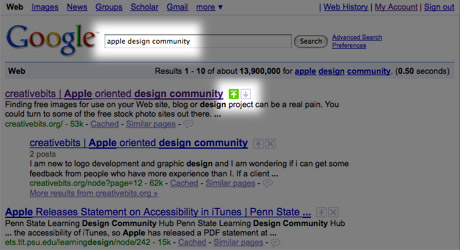 Google now allows logged in users to vote for, delete and add new search results for any keyword. What does this mean to you and web site search engine optimization (SEO)? First see the video below about SearchWiki and what it does.
First of all Google claims that whatever you do with the search results will only show for your user and won't affect other people's search results. This is probably true as Google will not want to encourage spammers and SEO professionals to abuse the system. However it is possible that on the long term all the votes especially the negative ones will indeed influence the formula to some extent.
There is however a way to generate traffic through this system without hoping for long term benefits. On the bottom of the search results page there is a link called See all notes for this SearchWiki. This shows the wisdom of the crowd. It's a page generated by the users of search wiki.
You can include your page for certain keywords on this page just by voting for your page on a google search or adding it by clicking Add a result also on the bottom of the search results page. If enough people check out this user generated page you will get traffic through this channel.
Check out the SearchWiki page for Apple Design for example. I added creativebits as a test. Pls check and report back if you can see it there.
Commenting on this Blog entry is closed.