CB Widget Pageant 2005
afterglow (571 pencils) | Tue, 2005-07-12 11:59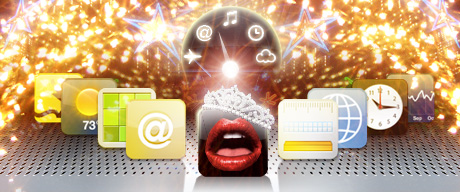 With the advent of OS X 10.4, people have been introduced to the concept of widgets as an extra layer of GUI goodness on top of the normal OS. Freed from the Aqua design constraints, these widgets are allowing people to alter the interface to fit the purpose and style of the widget. From the ridiculous (we're looking at you Dancing Homer) to the utterly useful (WidgetMail) there seems to be a growing momentum to build new funsize applications which do increasingly cool things in new ways.
So to salute this new sexiness we've decided to hold a beauty pageant of sorts here on creativebits for the widgets. Leaving the borrowed hairdryers and bitchy comments to one side, we want to find out what widget the CB community thinks is the finest example of design currently in circulation. Unlike those normal beauty contests, we're not remotely interested if the widget wants world peace or a career feeding orphans; we're just after looks. So brains are out and superficial, surface sexiness is in.....
The Process
1. Find a widget that gets you hot under the collar, graphics wise. You can shamelessly plug your own widget or submit something that makes your hand clammy everytime you reach for the F12 key. Whatever widget you think has been planned and executed to perfection, with little finishing touches that Apple would be proud of.
2. Post a link to it in the comments section of this post. Just a link will suffice at the moment.
3. After a week, we'll do a poll on the nominated widgets and put up a page featuring the graphic goddesses.
4. The winners get a gold, silver and bronze award for display on their site. And the warm feeling from knowing that theirs is the hottest widget in Dashboard Land.
Commenting on this Blog entry is closed.