Quick tip for anyone running Java Apps
William (187 pencils) | Wed, 2005-07-06 16:34
Just a quick tip for anyone here that uses Java Apps, and finds them a bit sluggish. Have you installed the latest Java 1.5 update ? Or as Sun calls it Java 5.0. It really makes them snappier!
If haven't got the update, go over to the Apple OSX Java page and grab the files from www.apple.com/macosx/features/java/
Install the package and then run the app in:
Application > Utilities > J2SE 5.0 > Java Preferences
Use the following settings: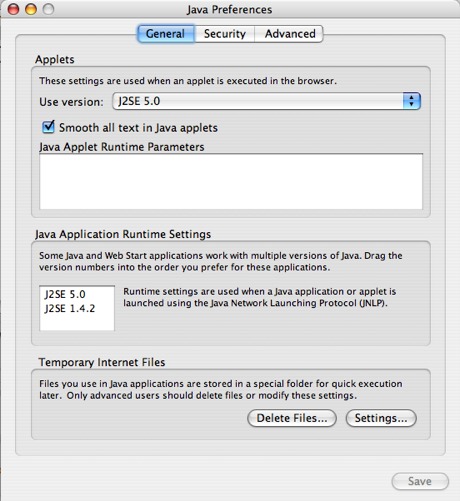 The first option changes the version of Java used in Safari. The second option is for Java Applications.
There are very few Java apps that are even usable, however the ones the I like are:
Azureus (Bittorrent client)
Zend Studio (Commercial PHP IDE)
jEdit (Text editor with zillions of features like built in SFTP)
This will not affect the version of Java used in Firefox, for that you will need the Java Embedding Plugin
Commenting on this Blog entry is closed.