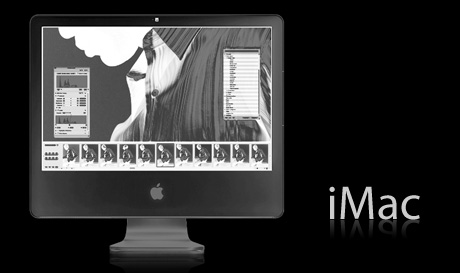 Today Apple introduced a 24″ "Prosumer" iMac, which fills the price gap between the 20″ iMac and the Mac Pro. Here's a brief run-down of its features.
24″ Display at 1920×1200. This display is 1 inch bigger (diagonally) than the 23″ Cinema Display, although it runs at the same resolution. Apparently 24-inch displays are cheaper and more widely produced — important as there is going to be a lot of demand for this Mac. Even so, it's very bright (400 cd/m2 and has a 6 ms response time.
New Processor. It's based on the new Merom chip, aka Core 2 Duo. It's a 64-bit chip and comes with 4 MB L2 cache. You can order it with a 2.16 GHz or 2.33 GHz ($250 extra) chip.
It now supports 3 GB of RAM. The new iMac uses 667MHz DDR2-SDRAM (PC2-5300) and has two slots (configurations: 2x512MB, 2x1GB, 1x1GB+1x2GB)
New graphics card — NVIDIA 7300 GT graphics processor with 128MB of GDDR3 SDRAM dedicated graphics memory (7600 GT – 256 MB available CTO). This is a great graphics chip, much faster than the X1600 in earlier systems.
FireWire 800 — extra throughput for external hard disks. This should accomodate most non-RAID HD's just fine, seeing as most single disks come in well under ~80 MBps.
DVI port — like earlier Intel iMacs, the new one supports external DVI displays up to 1920×1200.
Audio features — Internal 24-watt digital amplifier, optical input/output (S/PDIF combo).
The 24″ iMac starts at $2000, so it's a very powerful system at a great price for smaller design studios.