After the creative business cards showcase received over a million page views, I decided to post part two.
These cards are also out-of-the-box ideas that most clients would love to have, but would never have the balls to actually use. Hopefully you will enjoy the ideas presented here as much as I did and will get inspired to create your own cool designs.
I would like to thank everyone who sent me their coolest designs!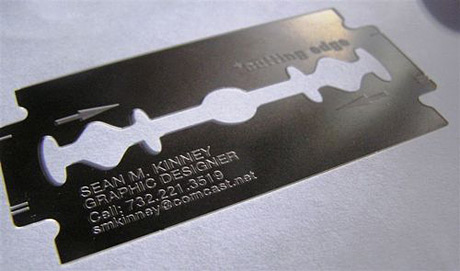 Let's start with a cutting edge design. Literally.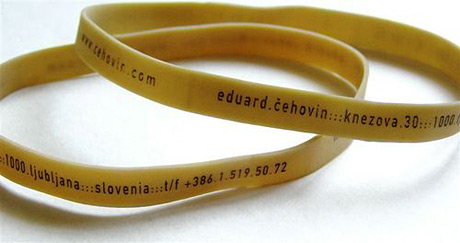 And if you managed to cut too deep use this rubber band to stop arterial bleeding.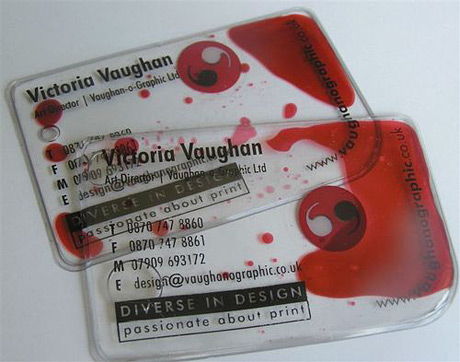 Which brings me to this bloody cool design. You can play with this forever.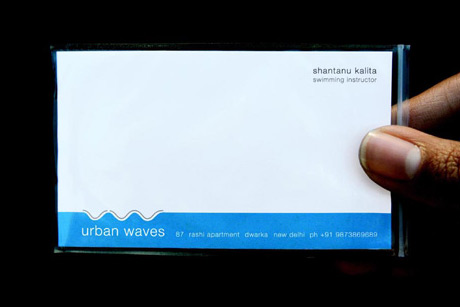 When you're done playing, look at this concept where the card is in a small plastic bag to protect it from getting wet. Naturally this is done for a swimming instructor. Cheap and great.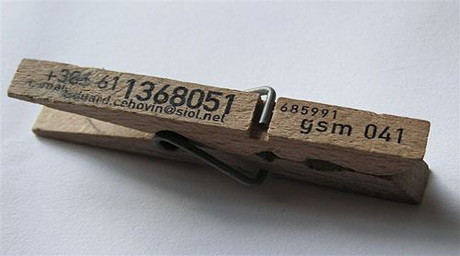 You can make use of other inexpensive household objects as well to grab the attention and make sure you won't fit into the standard business card holder. Like this clothes pin "card".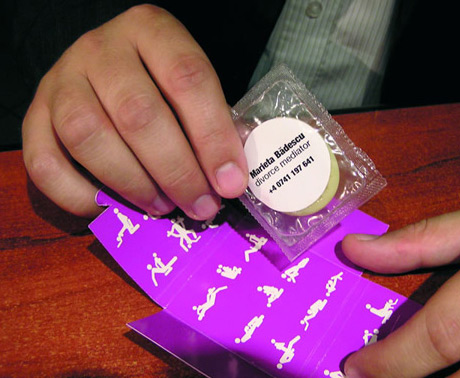 Ideally you would need to be relevant to the subject of your profession with your idea. Like this condom pack that is used by a divorce lawyer as his visiting card as well as distributed in bars as a direct marketing piece.

Or this hair grip holder for a hair and make-up artist.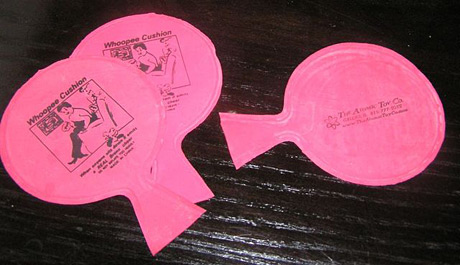 And if you really want to be remembered, give a whoopee cushion. It's certainly great fun on one hand, or I should rather say one cheek. Personally, I wouldn't want my persona to be associated with loud farts.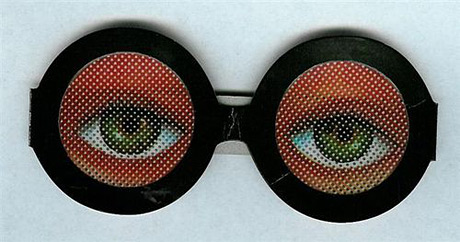 How about these silly glasses? While it will make my 2 year old laugh for sure, good luck with them on the board meeting.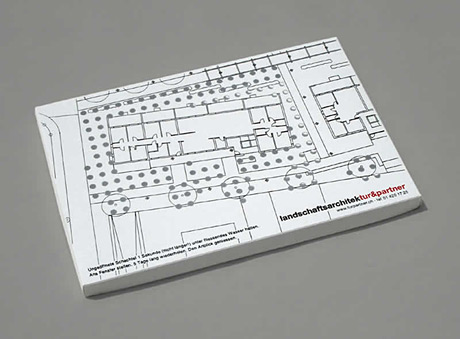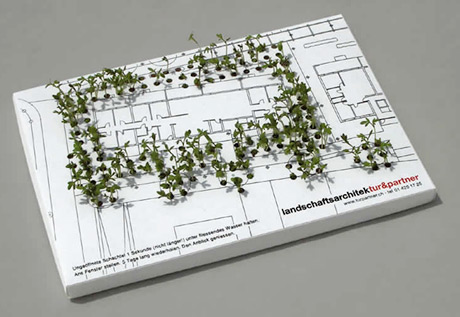 You can stop cracking jokes and still remain playful by designing a card that germinates and demonstrates your abilities to create a great park in no time, as it is done for this landscaper architect.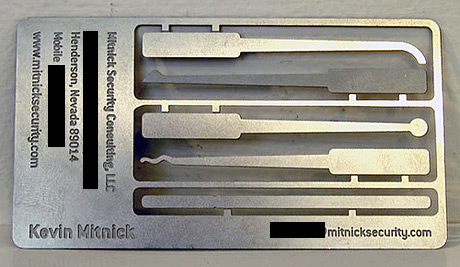 Another card that demonstrates a profession is the card of Kevin Mitnick, the famous hacker, which is essentially a lock picking tool set. He always said that the easiest way to get hold of a password is to ask the blond secretary for it in an authoritative tone, so I have no idea why he needs to break in anywhere.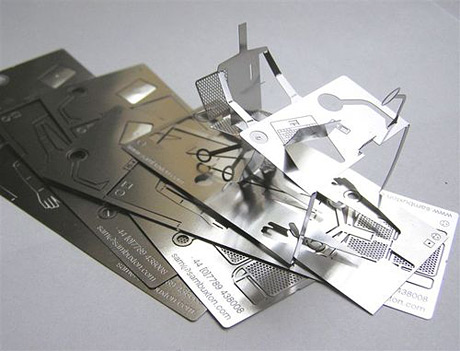 Another metallic card. This one is in the shape of a mini designer working hard at his desk.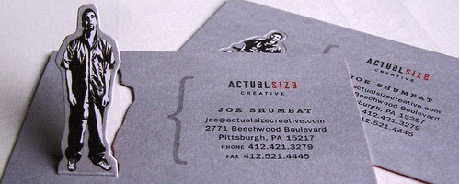 One more mini person at your service any time you wish to pull him out of your pocket.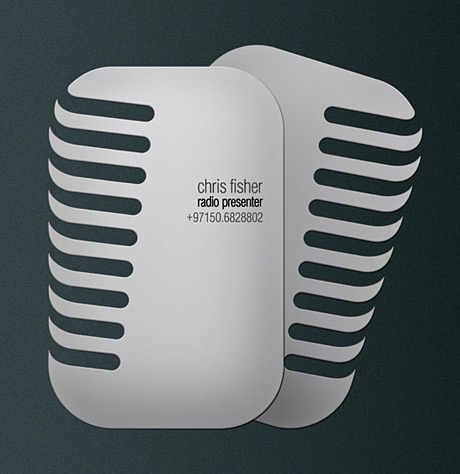 Let's look at more cards that refer to professions. Here is a card that resembles a Larry King microphone for a DJ.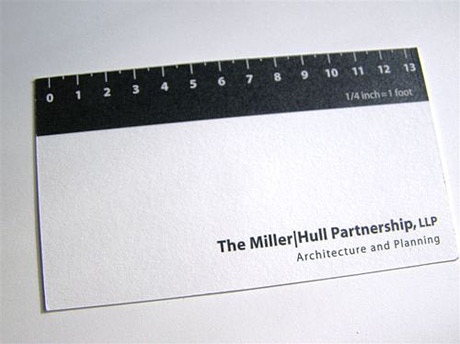 Another done for an architect that features a ruler. Don't expect a Hundertwasser style building from this guy!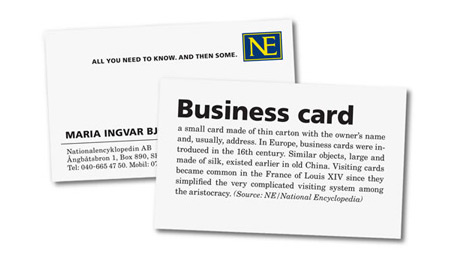 This card demonstrates what the National Encyclopedia does. Explains what things are.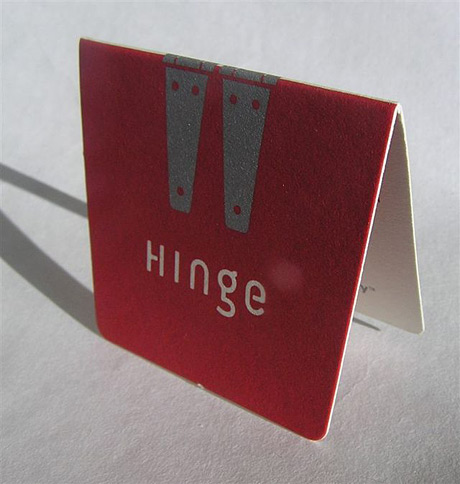 Great idea for a simple product. Demonstrate what hinges do directly with your card.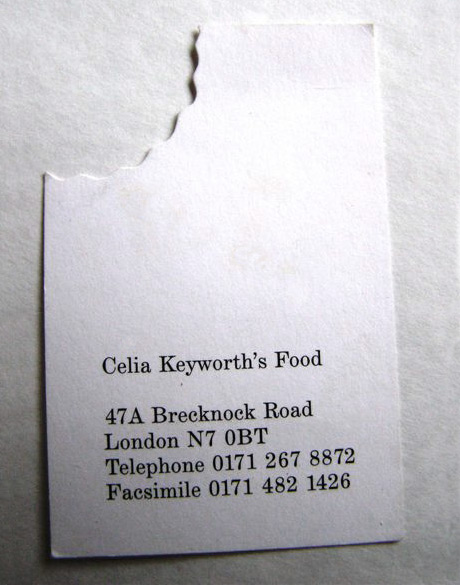 Yes, it's been done too many times, but it still works. A card for a restaurant with a bite. I wonder if I should put ketchup or mustard on my card before eating it. I think I'll put both.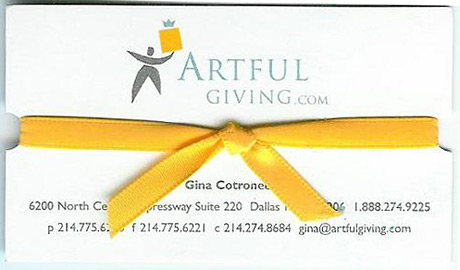 A card for a gift shop with a ribbon and a bow of course. How sweet!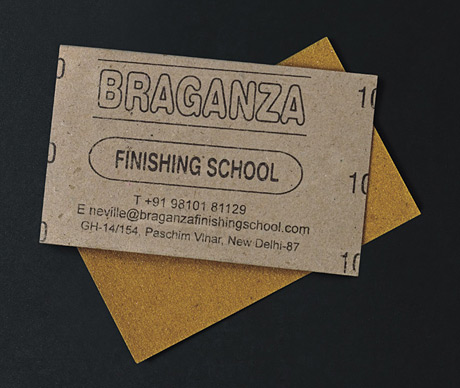 This sandpaper based card is made for a finishing school in India. What the hell do they teach at a finishing school? I wonder what came first. The client or the idea?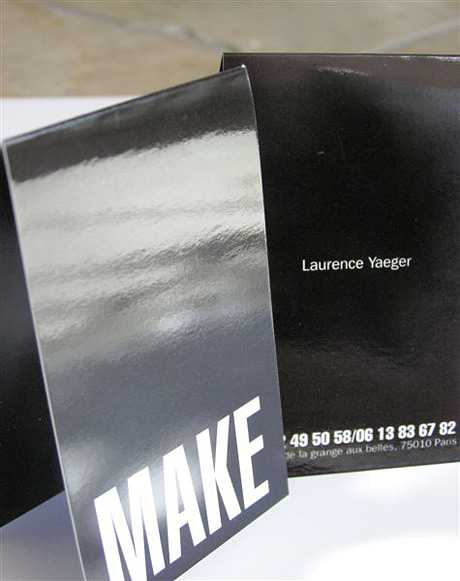 Talking about special paper, here is a card made of really shiny paper. Nothing modest about this one. Miss Hilton would love it.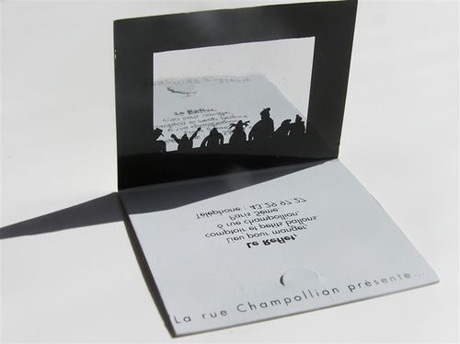 More folding shiny goodness for a puppeteer.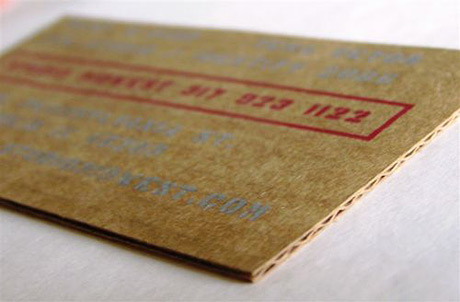 If you can't think of an idea, you can still use a special material for your card and it will still make you stand out from the crowd. Like this one made of fine corrugated cardboard.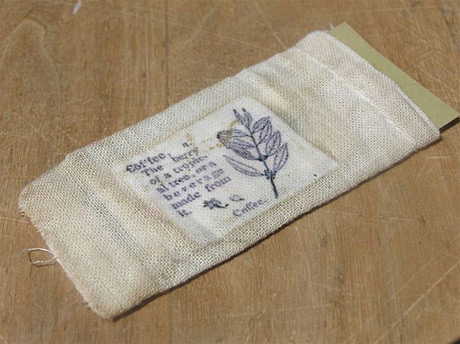 This card also uses special material, but in this case it's totally relevant. It's printed on rough textile that is similar to the material of the bags coffee comes in.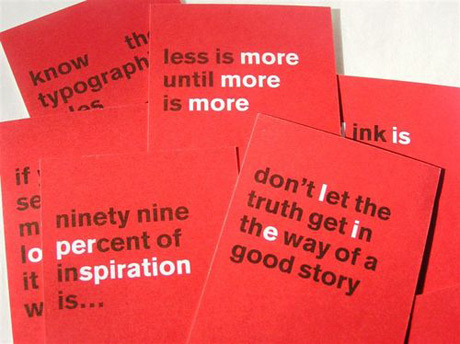 Traditionally cards are designed by graphic designers or art directors and copywriters are not part of the process. But you really should involve your writer next time. Check out this funny set of visiting cards.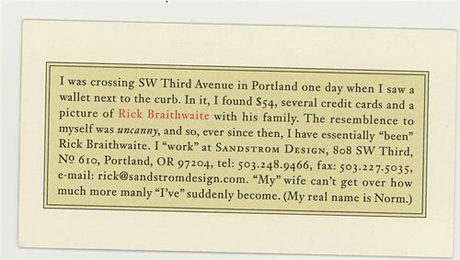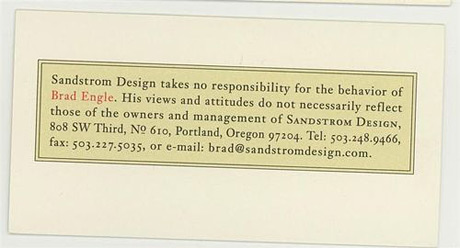 Another great copy based concept here.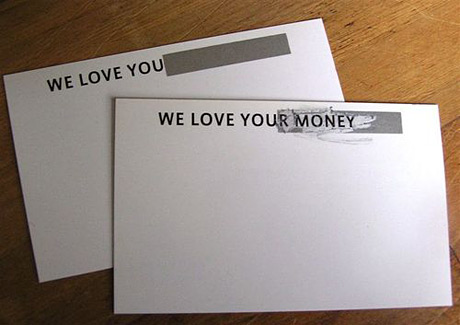 This simple copy based business card reminds me of my dad, who always said it pays to be honest. So, if you can't afford a talented copywriter, just be yourself and be brutally honest. I wonder what this guy's personal card says. I love you(r tits)?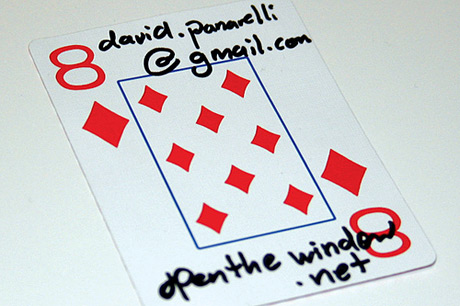 Talk about being broke. Don't print a card at all, just buy a pack of playing cards and write your contact info on it. You can also recycle train or parking tickets. Giving away ATM slips or used sanitary products are not recommended.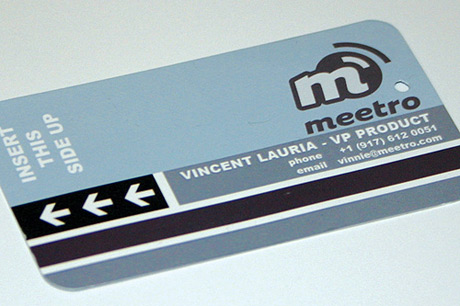 If you like the idea of tickets and have the budget to get it printed you can simply copy the design.


Or fake a pack of chewing gums. It will be most popular with the Singapore customs officers.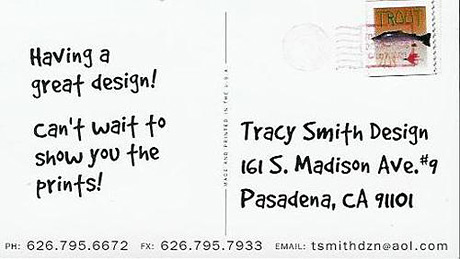 And while away send miniature postcard-like business cards to prospective clients.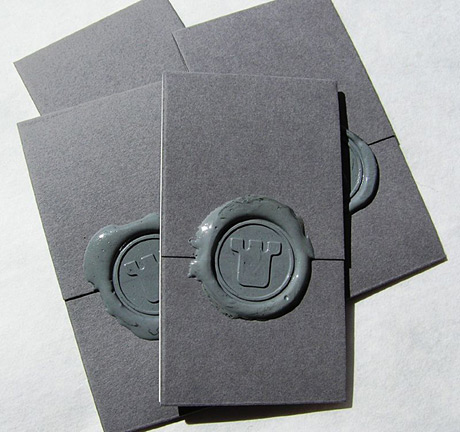 If you feel royal send cards that look like letters stamped with wax .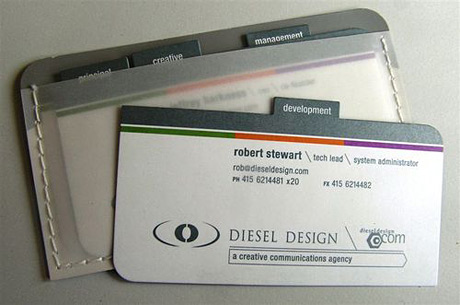 While you're at it, why don't you introduce the whole company at once. Give your client a whole portfolio of cards.
Or you can make the client come back for the next piece of your corporate puzzle.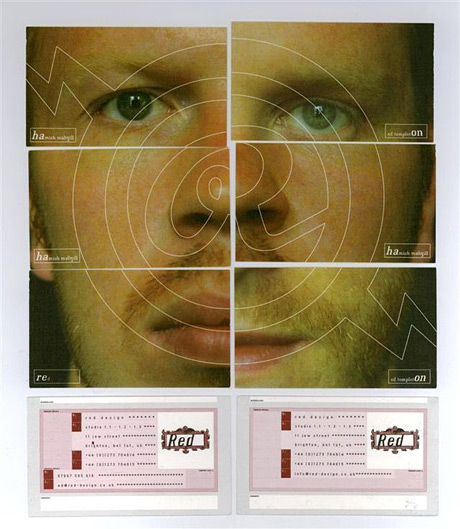 If you'd rather stay away from such a frankenface, simply create a series of cards with different designs on their backs and give a new one to your partner for every new assignment. Works great with clients with obsessive compulsive disorder.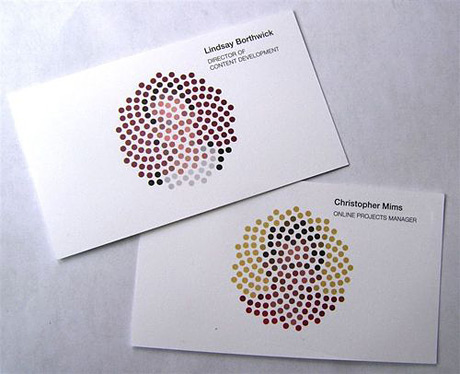 Your partner may not have OCD, but have you tested him for color blindness? You may try to do just that with this card that reveals the cardholder's face reproduced with an inkjet printer sporting a stunning 1dpi resolution.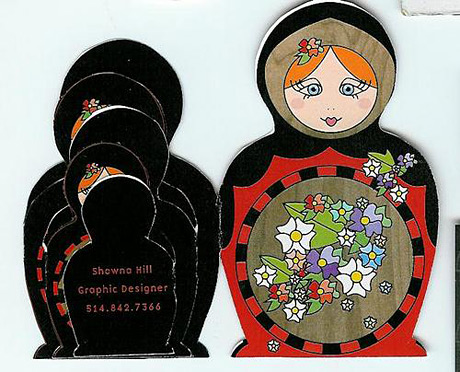 Be careful, a card says a lot about their owner. This clever folding matryoshka doll card for example suggests multiple personality disorder.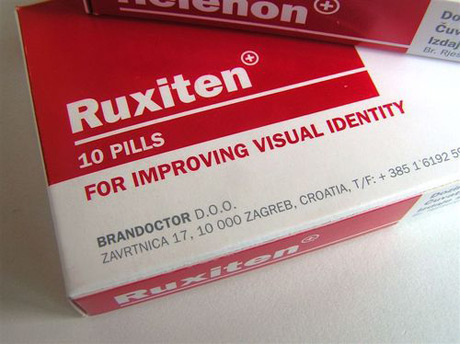 To cure these conditions, how about offering a pack of pills?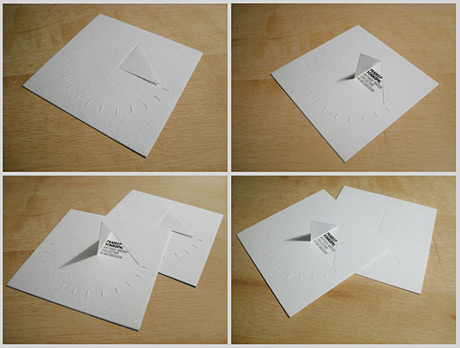 Going back to fun foldings, here is a card that can be turned into a sundial. It's been created for an antique watch collector.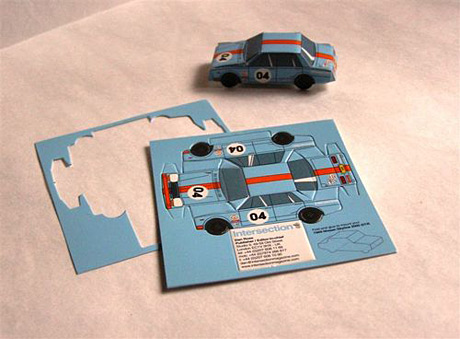 Another interesting folding will be liked by modelers. Fold a toy car and keep it on your desk.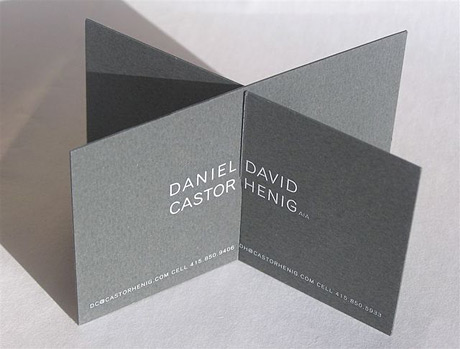 Please don't overdo these folds. Daniel who? Mr Castor what? This one simply confuses the hell out of me. Great way to intimidate your client into never calling you again.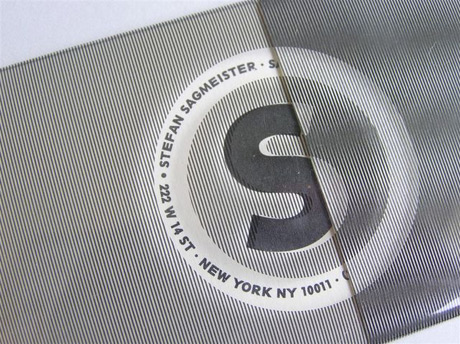 This one is stripy.
Update: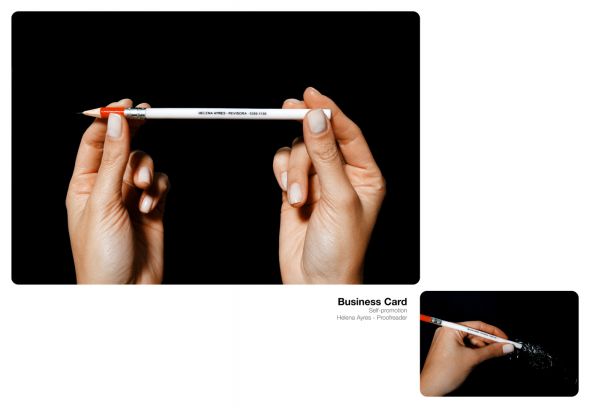 Self promotional pencil used as a business card for a proofreader. Notice the enormous eraser.