A while ago a website came to my knowledge called My dream app which is basicly a site where 4 developers put up a contest where people could suggest their dream application in OS X.. Out of these crazy suggestions on application that could be built only 24 went on.. Now you could easily vote on your favourite idea and the developers were having a word on each application, pro's and con's with the idea and suddenly the other day it was finished..
Cameron Westland was the winner of this contest with his idea called Atmosphere. And when I look into it.. I thought more and more of it as a genius idea..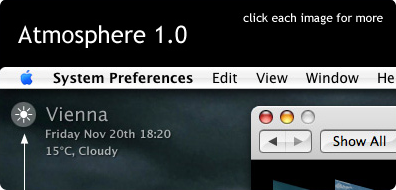 (Click on the image for fullsize)
So what does Atmosphere do?
Well basicly it's a screensaver desktop image application which get's the current data from a weather report and put an desktop image with the right weather on the desktop.. So if you wonder what the weather is on the outside, just check your desktop image 🙂

(Click on the image for fullsize)
Here is what Cameron wrote about the application:
See the weather: A near real time weather simulation application that provides a fun interface into weather forecasting, day/night cycle, moon phases and seasons.

Weather forecasting: View the weather on the timeline, similar to how time machine works. Simply go forward in time to get the weather forecast for your area, or backwards in time to see how the weather was a month ago.

Day/Night cycle: Watch atmosphere smoothly cycle from beautiful sunsets to starry skies.

Moon phases: Now you can howl at the moon in the comfort of your own den! See exactly what phase the moon is in, or use the timeline to see when the moon will be full, a new moon, and more.

Seasons: As the fall passes into winter, watch Atmosphere build up snow and see rain drops turn into snowflakes.
I think this is a cool idea for an application and the way the application is being designed. Perhaps a bit of a joy application but hey we all like fun apps don't we?
I think the contest "My dream app" is a new and fun way of getting ideas for developers and mainly just see if they can build it. Someones dream application.