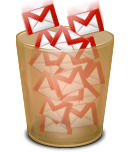 Gmail offers huge amount of free space for your email account, but if you frequently send and receive large files you can still run out of space. Here are few tips on what you can do to clean out emails with unneeded large attachments.
You can search for old emails with large attachments by this search query (in this case 10MB or larger and older than 2 years): larger:10M older_than:2y
Mass delete all the newsletters, notification emails, bills, undelivered emails, emails from a person who sends you chain letters, etc. Search for a term that appears in all of them like 'boring newsletter' or an email address, then click the select all from the drop down in the top left, finally click the 'Select all conversations that match this search' option and delete.
For more search options check out the Gmail advanced search page.
Commenting on this Blog entry will be automatically closed on January 9, 2013.