I'd like to congratulate the winners of the The 2004 Adobe Design Achievement Awards. For me the most interesting was the work of the print category first place winner G. Dan Covert from the California College of the Arts. He was looking for the reasons why our profession, Graphic Design is not appreciated.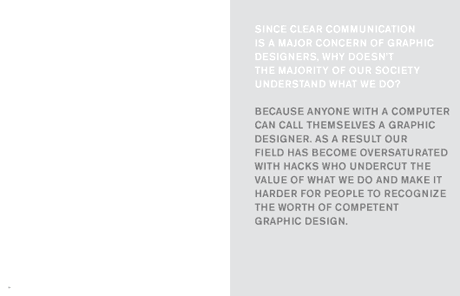 The spread featured above blames the rookie masses who just install PS on their gamer PCs and become masters of design in an instant. I heard this rant many times from coworkers, but I never thought it was a valid comment. There are people who have a car and think they are racing pilots, but it doesn't make them pros. There are people who fix their own toilets, but it doesn't make them plumbers. Smart people recognize professional work, no need to be afraid.
Commenting on this Blog entry is closed.