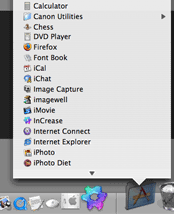 Can't fit any more apps in your dock? For a quick access to all of your Applications, drag the Applications folder to the dock next to the Trash. Once the Applications folder icon is in your dock you can click and hold it or CTRL click it. A pop-up window with all your Applications will come up. It's scrollable by just moving the cursor to the top or bottom of the page. Obviously you can do the same with any other frequently used folders.
Alternatively, you can try multiDock to manage up to 128 docks. 🙂
Commenting on this Blog entry is closed.