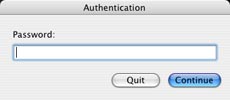 Since I started using Mail.app as my primary mail application I always longed for a security option against preying eyes.
If you leave the password field blank for your account (Preferences/ Accounts) the application will ask for the password every time you open it, but sadly anyone can read your email that is already in the inbox.
So, I present you a "non top notch" security app, that caters to my needs. It's called "Lame Secure", as the name suggests it's not the smartest, but for the average Mac user it is good enough.
Download LameSecure, it's freeware. It will ask you for which applications you want to protect. It helps me with Mail, Safari, Adium and all my personal stuff. Hope you will find it useful.