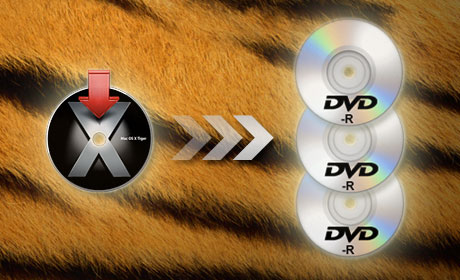 With Mac OS X Tiger 10.4 now in hand, you may want to consider making a personal backup copy. This is an excellent way to ensure you are protected should your original install DVD become damaged or lost. This simple tutorial will show you how to make a reliable DVD copy from Tiger's Mac OS X InstallDVD.
NOTE: This tutorial is for personal use only. Only the legal owner of Mac OS X Tiger should make a backup. In no way whatsoever does creativebits.org condone the pirating or unauthorized duplication of Mac OS X Tiger. Please use this tutorial responsibly.
Now that the legal mumbo-jumbo is out of the way, lets begin. Duplicating CD/DVD's is usually very easy, especially if you are lucky enough to have two drive bays and Toast Titanium. However, Mac OS X Tiger poses a slight difficulty since it is a bootable volume. The following steps will help you create a perfect working backup copy of Tiger.
Making a DVD Image
Step 1. Insert the retail Mac OS X Install DVD into your drive.
Step 2. Launch Disk Utility (Applications > Utilities).
Step 3. In Disk Utility, you will notice a white pane on the left hand side. In the pane, select the Mac OS X Install DVD by clicking on it once.
Step 4. Click New Image on the Disk Utility toolbar.
Step 5. A dialog box will appear. Give the new image a name. I used 'Mac OS X Install DVD'. Select the destination where you wish to save it. Leave Image Format at Compressed (default) and Encryption at None (default).
Step 6. Click Save to begin creating the image.
Step 7. Once your image has been created DO NOT mount it. Leave the image alone and proceed to the next section.
Burning the Image
Step 1. Launch Disk Utility (Applications > Utilities).
Step 2. Click Burn on the Disk Utility toolbar (upper left).
Step 3. Navigate to where you saved the DVD image created in the previous section. Click on the image file, then click the Burn button. Do not drag and drop the image file into Disk Utility during this step.
Step5. Insert a DVD when prompted and proceed to Burn it. (use good quality media)
Using these exact steps I was successfully able to create a personal backup copy of Mac OS X Tiger. I hope this tutorial helps. Enjoy the newfound features in Tiger!