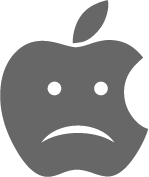 When something goes wrong with your OS X operating system or your Applications you can try several things before getting upset about it:
Quit all unused apps – If you have a memory issue this will solve it.
Restart – Most of the times this is a quick solution.
Repair permissions – Open Applications/Utilities/Disk Utility, select your HD and Verify then Repair your Permissions.
Verify your HD – You should do this if you're suspecting a failing HD, if confirmed backup and replace!
Update your System – Run Software Update from the Apple menu.
Update your misbehaving App – Check if the app you're having trouble with has an update and apply it.
Reinstall your App – this may fix problems with corrupt application files.
Do a safe boot – Restart while holding down the Shift key – this operation will do many different operations that may heal a sick Mac.
Create a new user – Logging into a new account will show you whether the problem lies in your system or just your account.
Trash Preferences or Cache – Trash your application and/or system preferences that are located under user/Library/Preferences and user/Library/Cache. You will of course your lose the application or system settings, but it may fix the issue.
Disable or delete plug-ins – If you have more than one plug-in installed with your App they may have a conflict. These plugins are to be found under user/Library/Application_name/Plug-ins. Some apps, like Firefox has a built in plug-in manager that you can use.
Rebuild the database – Many applications with large databases may benefit from restarting them with the Apple key pressed.
Check your Preferences/Accounts/Login items and delete as many items as you can.
Fix your keychain – You can rebuild your keychain if you have password problems by going to Applications/Utilities/Keychain Access then select File/Keychain First Aid
Google the problem – Try different keywords to search for the particular problem. Chances are the fix is already documented somewhere.
Ask on support forums – There are plenty of helpful people on Apple Support and many other sites (including here on cb).
Ask the Genius bar – If there is an Apple Store nearby try to ask the stuff for help.
A couple of things to remember when doing troubleshooting:
Do not panic! Eventually your issue will be solved.
Before deleting anything back up the file or better your whole Mac.
If you change a setting take a note to remember how to change it back.
Always change one thing at a time and test if the problem went away. This way you will know what exactly fixed it.
Help your fellow Mac users if you see they face the same problem you managed to solve already. One day your favor will be returned.