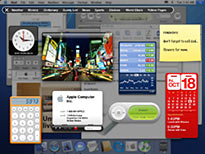 Tiger is far from being released but a site with Gadgets is already out.
Check out The Dashboarder.
In case you don't know Dashboard is a feature of Apple's future operating system, Mac OS X 10.4 'Tiger'. Using Apple's Exposé technology, Dashboard is comprised of multiple 'gadgets', which are essentially mini-applications. I think it's an exciting technology and I can't wait to get my hands on it!
Commenting on this Blog entry is closed.