Thank you for your good habit of coming to CreativeBits! I have received some very positive feedback on my blog and it inspires me tremendously.
I would like to share some stats with you. I was positively surprised to see that CreativeBits receives a daily average of 1000 visitors. 69% are Mac users and 29% percent are Windows. 59% of the users surfing with Safari, IE6: 21%, Netscape 5: 13%, IE5: 4% and Opera 7 gets less then 1%. 30% of the users are on 1024×768 resolution, 1280×1024 gets 20% and 1280×854 is 11%. Here is a chart of the timezones: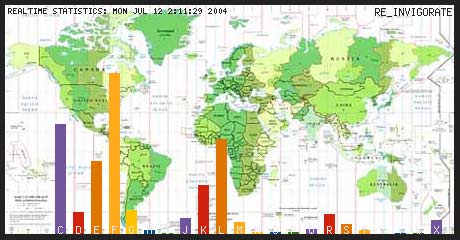 You can get a rough translation of the blog by Google here in Spanish, German, French, Italian and Portuguese.
Thank you again, I never thought that writing a blog can be so much fun and can be so fullfilling.
Commenting on this Blog entry is closed.