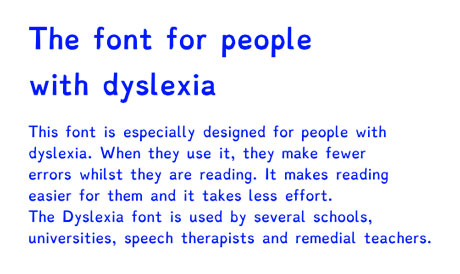 Dyslexia is a broad term defining a learning disability that impairs a person's fluency or comprehension accuracy in being able to read, and spell.
The font Dyslexie is especially designed for people with dyslexia. When they use it, they make fewer errors whilst they are reading. It makes reading easier for them and it takes less effort. The Dyslexia font is used by several schools, universities, speech therapists and remedial teachers. Independent research undertaken by the University of Twente, proved that the Dyslexia font improves reading results.
The study at the University of Twente showed that people with dyslexia made fewer reading errors when they use the Dyslexie font compared to using standard font.
Learn more on Project Dyslexie.
Also, check out another special font called Ecofont for sustainable printing.