Gmail has undoubtedly the best webmail interface by far. Everything is cool about it, except maybe that you found it annoying to have to use the gmail.com domain as your email address instead of the shiny [email protected] email address that matches your site.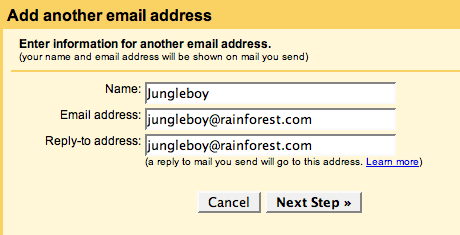 Good news. You can set up any email address on Gmail in a way that each email sent out will look like as if it was sent from your domain.
First you need to add [email protected] to gmail to take care of the outgoing emails:
Go to your gmail account and click Settings and than Accounts tab
Click Add another email address
Fill out the fields including the Reply-to address, which should be the same as the Email address
Click Next Step and Send Verification
Click the verification link in the email that you received to 

[email protected]
Now for the incoming emails. If you not only want to send from your domain using gmail, but you also want to receive all the emails to gmail you will need to forward all your email coming to [email protected] to gmail. Most hosting companies where you set-up the email account will give you the option to automatically forward all emails coming to a certain email account. Set it up in a way that everything gets forwarded to your [email protected] email address.
You can optionally go back to your Gmail account settings and make the newly setup account as the default email address to make sure all outgoing emails are sent as if they were sent through your domain. You're actually using Gmail's email servers, but that is only visible in the email headers, but the from and reply-to addresses will all show your domain.