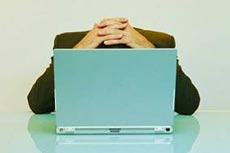 Sometimes our job in advertising and design is really tough. Apparently advertising is the second most stressful profession, right after stock broker. On top of that there is a strong culture for poking each other. Creative poke client servicing, client servicing pokes creative. Clients poke everybody. Let's take a look at the bright side. If you have the 'right' attitude this job can be fun.
Clientcopia was created to give you an escape. Take joy in knowing you are not alone. It's about stupid client quotes, like several years back I got a brief with this jewel: Target group: People. Wow! That's a surprise. 🙂
Thanks Cartmn101 for the link.
Commenting on this Blog entry is closed.