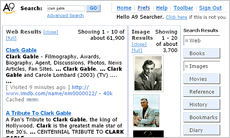 A9.com is Amazon's addictive web search engine that is based on Google. It gives you the same results, but does it in style. While Google is focused on giving you the results in the most compact code, A9 is well customizable and has many user specific features.
Every search you performed on A9.com is stored in the History column and organized by time. You can switch between your previous searches and the sites you've visited. You can also organize your search with a Diary. You can take notes on any web page, and reference them whenever you visit that page, on any computer that you use.
You can search for sites, images, books, movies, etc. all at the same time in columns. It also has a powerful bookmarking feature. You can drag and drop any title (e.g., from search results, Discover link, history) to your bookmarks within A9. You can also customize the look and feel of your A9 account.
You can easily add an option to have the A9 search engine as an option to complement Google in your Firefox search tool. Just click the little icon and select Add engines… This will take you to a Mozilla plugins page where you need to type in A9.com as the search engine you want to add. Once you click the link provided you'll have A9 in your toolbar.
Apparently according to this cool blog, it even pays to use A9. Virtually everything will be appr. 2% off for you on Amazon.
Commenting on this Blog entry is closed.