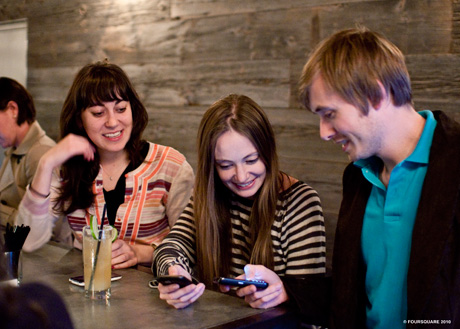 Image is a courtesy of Foursquare
What can we expect to see in 2011?
Innovation, influence marketing, and customer experience were the business buzzwords of 2010. Consumers no longer believe the smoke and mirrors of traditional marketing. Their trust must be earned on a daily basis. Never before has business collaborated so openly with consumers. We've learned that we can't be smart, creative, or innovative without sharing. And the early days of the twenty-first century have provided an explosion of technological tools to optimize collaboration.
It's clear that the rules of brand design are fundamentally changing. Success no longer depends on consistency and adherence to strict brand guidelines, but on open, flexible, and innovative experience design that allows for nimble navigation across changing marketplaces. There's a new mantra for design:
Share=design=delight
Sharing leads to ideas. Ideas facilitate design, and design transforms needs into demand. Design is the process that realizes the potential in collaboration. Design provides the divergent exploration of a shared thought and then the rigorous, convergent focus to deliver something useful or meaningful—and if it's spot on, something absolutely delightful.
What are the implications of these trends?
Design is having a positive effect on business processes. As more and more companies realize that their Six Sigma processes aren't giving them sought-after results, they are turning to design thinking to uncover more meaningful solutions.
Corporate responsibility will play a much larger role as many market-leading brands realign their business strategies to values over value. With this growing conscience comes the responsibility for design to deliver sustainable solutions that focus on the right balance of ethics, form, and function. Poor design has ended up in enough landfills.
Online design is dropping flash, splash, and animated extras. With the rise of mobile connectivity, the power of functional, light-interface designs that optimize content navigation will grow on all screen-based platforms. Novelty plays, such as invisible logos, user-generated logos, and logos as containers, have probably had their day, too.
Which brands will stand out?
The buzzwords of 2011? Share, design, delight. Next year, I guarantee, the big brand stories will be developed around an ethical purpose through a design-led, collaborative process. Here are four stories I'm keeping my eye on:
Redesigned license laws for sharing. Anything produced under Creative Commons license will be worth following. For more information: www.creativecommons.org
Simple functional interface design leads, as proximity networking is set to go commercial in 2011. For example: www.foursquare.com
Content is king. The shape of TV will radically shift next year. Smaller personalized content aggregators are the ones to watch. For example: www.devour.com
Ethical design thinking and business leadership from "B corporations"—defined as socially responsible businesses that are required to consider the interests of societal stakeholders such as employees, communities, and the environment. For more information: www.bcorporation.net
—
Paul Owen
Executive Creative Director, New York
Landor Associates