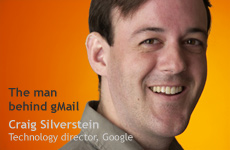 Designers working with hi-res images need bigger storage space and bigger bandwidth than the average Mac user. We need a bigger email account as well. gMail gives you 1GB storage space and it can send attachments up to 10MB, so you'll have plenty of room to send and receive zipped artwork. Hopefully the 10MB attachment size limit will go even higher in the future. gMail has an innovative forum like navigation system, which I personally found extremely useful and even more user friendly than the Mail.app threads view. The search function combined with the wast amount of storage space eliminates the need to organize your mailbox, but if you need to you can use the Labels instead of the traditional folders approach and color coding. The gMail address book will automatically grow whenever you receive or send mail to a new contact. It has a spam reporting system too. Contrary to rumors, now it does work with Safari. Here is an in-depth commentary about gMail. Read the gMailGems blog for continous update on gMail developments.
Although gMail is still in beta, there are several haxies that might help you personalize your gMail experience:
gMailStatus and gCount – Applications that show the number of unread messages in the Mac OSX menubar.
AddressBookToCSV – Export your Mac OSX Address Book to gMail.
gMailto – Turns any mailto: link on the web to your Gmail account compose message window instead of your mail application.
gMail-Mobile – Use gMail from a WAP enabled device with php.
Import mail from Mac OSX Mail.app into gMail.
You can even set-up a blog based on gMail.
Tell me if you need an invitation or if you know of a haxie that would work on OSX and not listed here.
Commenting on this Blog entry is closed.