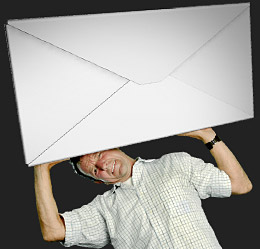 I'm sure we've all been in a situation where someone's waiting on a file, but for any number of reasons including large file size, email just isn't a viable solution. In this case, I usually just toss it on the server and email the expecting party a link where they can download the massive file. Simple enough, but if you're server is like mine, at any given time it's always at near-capacity. So, what to do (aside from actually cleaning out the server, of-course)?
Well, the good news is that there are several free, web-based services who offer to upload and deliver these large files in short order. And a few actually do so with out much hassle.
We've selected six of these services and compared them based on similar criteria. For each, we registered (if necessary), timed the upload of the same 50 MB, CMYK tiff file, and then timed each download. Other considerations were limits to file size, relative ease of use and whether it was possible to notify multiple recipients of the file's availability from their site. I also included the results from my personal server, via FTP just out of curiosity (see Speed Report graphic).
I also should note that these test were performed on a Macintosh G4, v10.4.8, with a 1.8 Ghz processor, 1.12 GB RAM, with an Ethernet-to-DSL internet connection. We also used Safari for these tests, so your mileage may vary depending on your configuration. Also, no other internet activity was going on while these tests were being performed, so the results should be fairly indicative of optimum performance for each service.
In order of personal preference: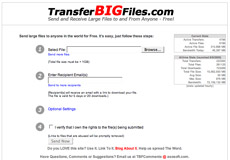 Although the upload system failed three times with Safari, I switched over to Firefox and it worked beautifully. Transferbigfiles.com has an intuitive interface with handy help links as well as many more upload options than the rest. You can send multiple files to multiple recipients, include a message with your file, password protect the file, send using your own name and a feature that I especially liked, the option to receive confirmation of successful download. The transfer was flawless and they never asked me for my personal information to just upload and download the file. Their presentation left a bit to be desired, but for functionality, the extra options and allowing me to keep my email to myself, transferbigfiles.com gets my top vote.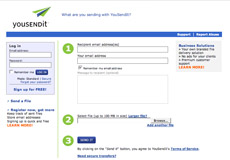 Running a close second, is yousendit.com. They've been around awhile and I should admit that I've used them many times in the past. Before you can use their services, you must register with your name and email. They instantaneously email you a link which verifies that you're human and logs you in. Transferring a file is a 3-step process of entering the recipient email(s), choosing the file, and clicking "send." The site is also well done and intuitive. Confirmation of successful upload is sent to you and a file availability email is sent to the recipient(s). Even though they made me register, the presentation and execution was flawless.
MYFABRIK.com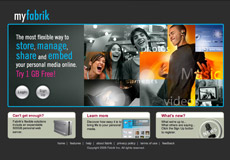 This one's the artsy one of the bunch, and maybe that's what landed them in third place. They have a graphical interface that's fairly intuitive, but it took me a second or two to realize I was following protocol. At the very least, some textual info on the buttons would help out in this respect. Basically, you click the file upload button, locate the file on your drive and click "upload." After the file uploads, you get a "confirm you're human" page with a graphical image of random, and case-sensitive numbers and letters. Once you type this code into the field, you get a successful upload confirmation and are asked to copy and paste the provided download link into an email to the recipient. Again, I had trouble here because the graphical image of the code looks like an extruded wireframe, and the characters are difficult to read. On my second attempt, I finally got the download link and it was smooth sailing after that.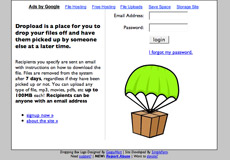 Dropload is fairly straightforward. They do require registration but after that, I was uploading in mere moments. The interface also leaves much to be desired, but I do dig their logo of a descending package tied to a parachute. I didn't see a way to upload to multiple recipients and there was no obvious mention of file size limitations. This lack of info caused a bit of hesitation, but the site worked as advertised and with one of the shortest download times of the bunch. Did I mention that the logo was cute? 🙂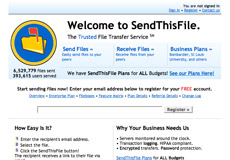 They allow upload of files up to 2GB! Sound appealing? Well, keep reading. Sendthisfile.com does require registration, verification and log-in which again, is fairly painless. However it took slightly over an hour to upload our 50 MB file! Imagine 2 GB… you do the math. Under the upload status bar, there's a notice in red letters: "Your FREE account is throttled based on the total usage each month. Your upload speed is reset monthly." Let's just hope that they throttle it "upwards." Because, with the previously-mentioned contenders vying for your file transfer business, and with upload speeds like this, sendthisfile.com may want to reconsider this policy. Just a suggestion.
FILES.EOCFU.com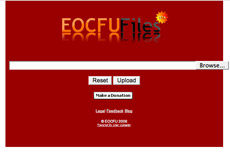 I should mention right off that this one's still in beta. I know this to be true for a couple of reasons. First, because It says so in a big starburst on their logo. And secondly because I managed to "stumble" into their directory of all the files that had been uploaded through their service. Wait… let me explain. When you visit the site, you have three options: Choose File, Upload and Reset. So, I chose my file and clicked "upload." The transfer began, complete with a detailed status list and status bar. Upon successful upload, a listing of uploaded files (just the one) was presented as a link. Not knowing what to do next, I clicked it and the tif image began loading in the browser window. I then clicked "back," selected the link and copied it. I opened a new browser window and pasted the link, which was the relative link to the file. Out of curiosity, I deleted the filename from the URL and there I was. Looking at every file anyone had uploaded. Oops! No… Nothing of interest really, so I went back to the link and did the "Download linked file." thing.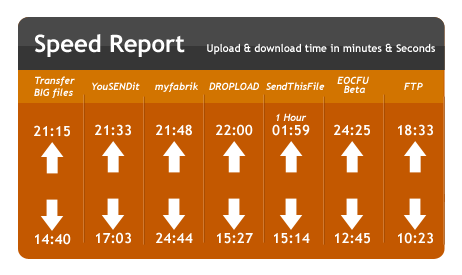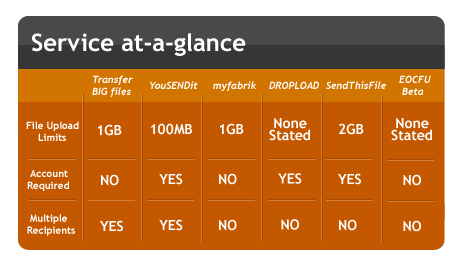 Summary
Of the services reviewed, transferbigfiles.com and yousendit.com are the two that I'd recommend. They each have more options than the rest, both are free and they work equally well. The only question as to which one you use may depend on if you want to create a user account or not. If not, transferbigfiles.com is your best bet. I'll continue to use yousendit.com as well because I already have an account there. I also will mention that a couple of days after I signed up with yousendit.com, they offered an account upgrade to one of their paid membership plans for free, which I was more than happy to accept.
Each service did what they said they'd do. Transfer a large file for free. Some just did it a bit better than others and some with a bit more elegance and security in-mind. In today's digital world, it's easy to see the value of these services. Not to mention another reason to put-off cleaning out the server. 🙂
Terry Thornhill
e-zign design group
http://www.digg.com/software/Heavy-weight_file_emailing_solutions_reviewed